About Wekiwa Springs State Park
There's a magical place in the middle of Florida where the water stays a cool 72 degrees year round, even when the summer Florida sun seems to be melting everything down to a puddle. That place is called Wekiwa Springs, and if you haven't been, you should visit immediately. In addition to the crystal clear springs (perfect for snorkeling), the scenic Wekiva River and Rock Springs Run provide the perfect opportunity for paddling. On land, hike through the 13 miles of trails that wind through river hammocks, swamps, and sandhills. There's also eight miles of multi-use trails, which see heavy traffic from equestrians and mountain bikers. Keep an eye out for wildlife on your hike, including wild turkeys, the occasional black bear, and squirrels. Before you scoff at our inclusion of squirrels in our list of interesting wildlife, you should know we're not talking about just any squirrel -- these are fox squirrels.If you squint a little, these squirrels kind of look like (you guessed it) little foxes, especially if you spot one with unique coloring. So cool. The only downside to Wekiwa Springs? The place gets packed on the weekends -- so came early and claim your spot. You don't want to miss out on the perfect 72 degrees.
Campgrounds in Wekiwa Springs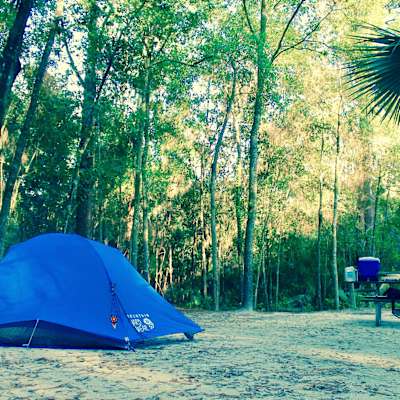 Stretch out at Wekiwa Springs Campground, where the 60 wooded sites, nestled among longleaf pines and rolling hills, offer the ultimate seclusion....
8 Saves
3 Reviews
No one? Bueller? Sharing is caring, y'all.
Drop some
Wekiwa Springs
knowledge on us.
History of Wekiwa Springs State Park
Forty-two million gallons of crystal clear water flow each day from Wekiwa Springs into Wekiwa Springs Run. The run joins with Rock Springs Run to form the beautiful upper Wekiva River. Creeks, later called Seminoles, are the most recent Native Americans to have lived here. Wekiwa means 'spring of water' and Wekiva means 'flowing water' in the Creek language.