About Torreya State Park
Don't deny your inner urge to YURT at this 13,735-acre riverside getaway scattered around the streams of the Apalachicola (seriously, if you haven't YURT-ed, you gotta get on that!). A vast forest of hardwoods blanket this park in a blazing jacket of warm colors each fall. Among this vibrant vegetation are endangered beauties such as the few-flowered croomia, feathery false lily of the valley and Canadian honewort. At Torreya, you can hike, bike, geocache or bird your way through 16 miles of gently forested trail, but remember to keep your eyes peeled for all sorts of wildlife, including black bear, eastern hognose snake, gopher tortoises, salamanders, deer, fox, bobcat, opossum and raccoons. Playgrounds, picnic tables, grills and horseshoe pits help make this park a great weekend family destination as well. When you do finally make your way over here, just promise to do us one itty, bitty little favor… YURT UP!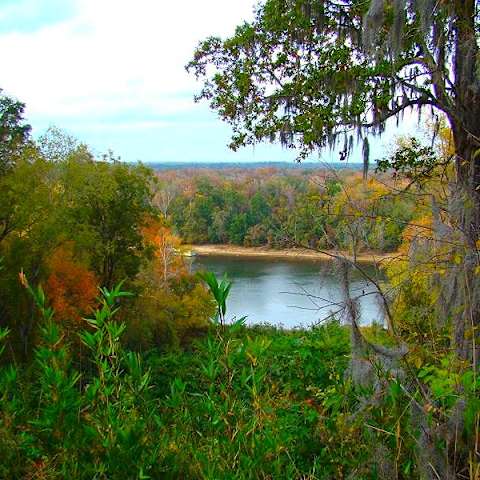 Joe: Great spot just a short drive from Tallahassee. FYI, most of the campsites are pretty open. Not a...
1 Review
No one? Bueller? Sharing is caring, y'all.
Drop some
Torreya
knowledge on us.
Great spot just a short drive from Tallahassee. FYI, most of the campsites are pretty open. Not a lot of coverage/privacy in between, but the campsites on the "20s" side of the loop seem to be better. But the volunteer staff were super nice. Firewood available for 5 bucks a bundle. The 6.8 mile Torreya Trail is pretty cool, offering several different types of terrain. You forget you are in northern Florida!
Remove vote :(
History of Torreya State Park
The high bluffs overlooking the Apalachicola River make Torreya State Park one of Florida's most scenic places. The park is named after a rare species of Torreya tree. In the 1800s the Apalachicola River was an important interstate highway. More than 200 steamboats traveled the Apalachicola River. The Gregory House, which originally sat across the river at Ocheesee Landing, was built around 1849 by planter Jason Gregory. After the Civil War and the abolition of slavery the plantation declined. The Gregory House was donated to the Civilian Conservation Corps (CCC) in 1935. It was then dismantled, moved across the river and reconstructed in its current location.