About Topsail Hill Preserve State Park
How this park escaped the almost inevitable destiny of becoming an oceanside resort? The answer is far beyond our grasp, but hey we aren't going to question it. With 3.2 miles of ever-so-fine white sand beaches right on the Gulf, two lakes surrounded by longleaf pine forests, wetlands and sand dunes - this 1,640-acre park sits on some seriously prime real estate. Tangled amongst this tropical paradise is the Campbell Lake multi-use trail, which is great for hikers and bikers, and so too is the 2.5-mile Morris Lake Nature Trail an excellent choice for hikers and picnickers. But let's quit beating around the bush. We know what you're here for. The beach, duh!! Lounge away the day sunbathing or partake in some of the park's water activities such as swimming, fishing, canoeing or kayaking. You'll also want to take in the wildlife here. Stay on your toes with ferocious predators such as alligators and sharks lurking about, then relax, take a deep breath and go see the non-violent pacifists; butterflies, the Choctawhatchee Beach mouse or songbirds (part of the GFBT). So much to see, so little time. Better get going!
Campgrounds in Topsail Hill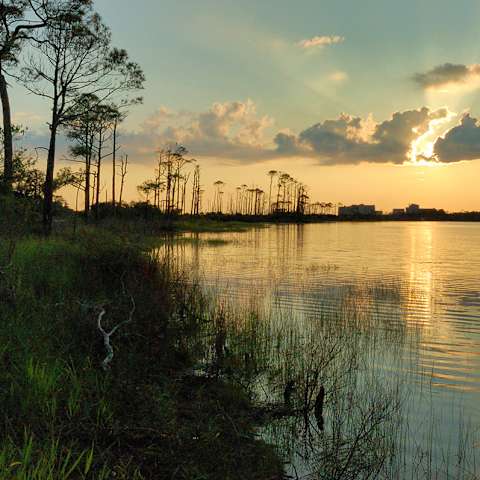 The campground at Topsail Hill might feel more homey than your actual home — seriously. The campground...
Photos
This park doesn't have any submitted photos—just yet.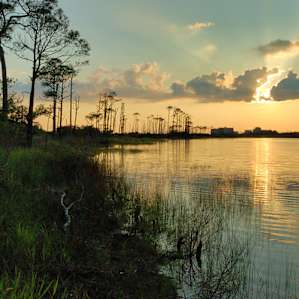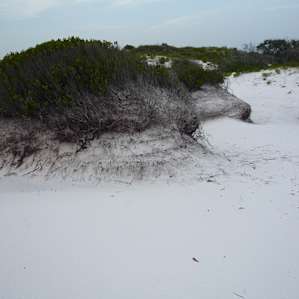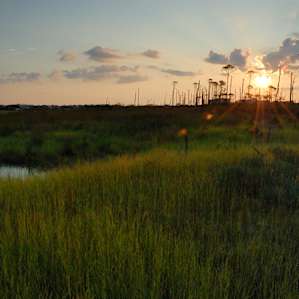 Reviews
No one? Bueller? Sharing is caring, y'all.
Drop some
Topsail Hill
knowledge on us.
History of Topsail Hill Preserve State Park
This 1,640-acre park features a variety of habitats: pristine beaches, freshwater coastal dune lakes, old-growth longleaf pine forests and wetlands. Evidence from midden mounds (discarded debris from Native American communities) and a large mound adjacent to the park, indicate that Native Americans used this area for fishing, hunting and camping. From the late 1800s to the mid-1900s, workers from the Quarters Turpentine Village turpentined old-growth longleaf pines in forests now part of Topsail Hill.