About Three Rivers State Park
Three rivers and no swimming? Take it up with the gators (the animal, that is)! Beautiful Three Rivers State Park is where the Chattahoochee and Flint Rivers converge to form Lake Seminole. Though swimming in the waters is not advised, there are plenty of river adventures to be had. Campers can BYOB (bring your own boat), or fish from a 100-foot pier in the camping area. Largemouth and smallmouth bass, catfish, bluegill, speckled perch, and bream are the most common fish that anglers can come away with. And when you've caught your weight in fish: hike through the hills, meet your friends for a gathering at one of the three pavilions for rent, or super relax at your campsite or modern cabin (for extreme glampers). No gator is gonna reign on your adventure parade!
Campgrounds in Three Rivers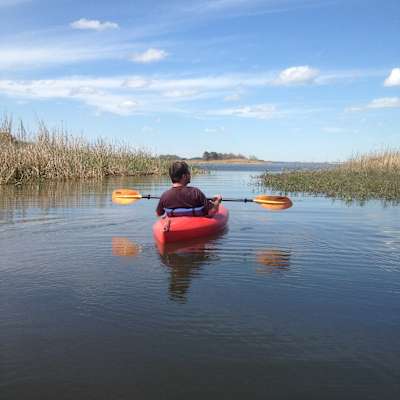 Your eyes tell no lies. At Three Rivers Campground, you can see both Florida and Georgia! Other potentially less ground-breaking occurrences at...
Nancy: This is where true life is !!!! love it
3 Saves
1 Review
No one? Bueller? Sharing is caring, y'all.
Drop some
Three Rivers
knowledge on us.
History of Three Rivers State Park
The Flint and Chattahoochee rivers combine to form Lake Seminole above the Jim Woodruff Dam. Below the dam, the waters become the mighty Apalachicola River, which flows untamed until it pours into Apalachicola Bay, and eventually, the Gulf of Mexico. The name of the park is a tribute to these three rivers. Construction of the Jim Woodruff Lock and Dam began in 1947. After Lake Seminole was filled to the desired depth, Congress passed a special bill allowing certain property of the U.S. Army Corps of Engineers to be designated as recreational areas and leased to the state of Florida. Three Rivers became a Florida state park in 1955.