About Sebastian Inlet State Park
Are you a fan of shipwrecks and long lost treasure? Okay so maybe not the former, but definitely the latter! Well, are you in for a treat at Sebastian Inlet, where there have been instances, of silver doubloons washing up on shore! This coming wayyy back in the sands of time as the result of a 1715 Spanish shipwreck where the crown's gold, silver and jewels ended up on the ocean floor. You can learn about this history at one of the park's two museums, the McLarty Treasure Museum. One of the biggest fishing destinations on this 1,000-acre stretch on Florida's eastern coast, the Sebastian Fishing Museum is also located on park grounds, paying tribute to the area's popular past-time. Anglers will feel like kids in a candy store as they patrol for snook, redfish, bluefish and mackarel in both the Atlantic Ocean and the Indian River Lagoon. Other popular activities here include hiking, biking, canoeing, kayaking, snorkeling, SCUBA diving, swimming and surfing. Lots of wildlife at Sebastian Inlet, so keep your eyes peeled around the tidal swamps and mangrove thickets for ospreys, raccoons, opossums, river otters, alligators, dolphins, manatees and even loggerhead sea turtles (just like Crush of Finding Nemo fame...
RIGHTEOUS!
).
Campgrounds in Sebastian Inlet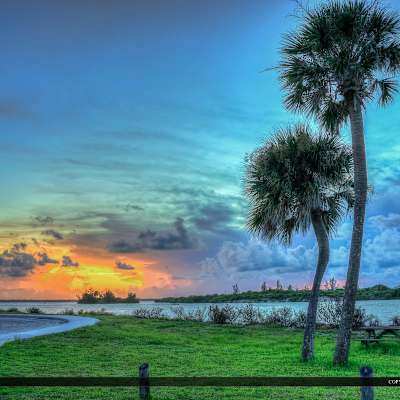 Might as well tell people that you camped on the Atlantic Ocean on this skinny inlet, where, looking eastward, you won't find another patch of...
12 Saves
1 Review
No one? Bueller? Sharing is caring, y'all.
Drop some
Sebastian Inlet
knowledge on us.
History of Sebastian Inlet State Park
Sebastian Inlet State Park is home to two museums. The McLarty Treasure Museum is situated on a survivors camp of the wrecked 1715 Spanish Plate Fleet. The museum features artifacts, displays and an observation deck that overlooks the ocean. Salvagers still work to recover gold, silver and the 'Queen's jewels' that were lost to the sea. The Sebastian Fishing Museum depicts the lives and history of the people who lived in Sebastian, interwoven with fishing and the Indian River Lagoon. The museum commemorates three of Sebastian's early families that operated fish houses.