About Paynes Prairie Preserve State Park
Stargazing Party or Fire Fest? Lucky you, cause you are invited to both! These events, taking place annually in January and March, are just two more reasons to swing by this 22,000-acre state park (and national landmark!), located in the swampy savanna grasslands just south of Gainesville, Florida. With so much room to roam, Paynes Prairie Preserve is a hot spot for hikers, bikers, horseback riders and backpackers. With eight mixed-activity trails that offer 30 miles of excitement and exploration, you'll undoubtedly uncover many of the 25 different natural communities, which include a whopping 800 types of plants and 420 varieties of vertebrate animal species. The 300-acre Lake Wauberg is another popular park attraction for canoers, kayakers and anglers, who can reel in the daily quota of bass, bream and speckled perch. Motor-boaters beware, however, because gasoline-powered engines are a no go. Bringing a furry friend along for a hike? What a fabulous idea. Just make sure to keep them far, far away from Bolen Bluff Trail, Cone's Dike Trail and La Chua Trail so they don't become an alligator's lunch!
Campgrounds in Paynes Prairie Preserve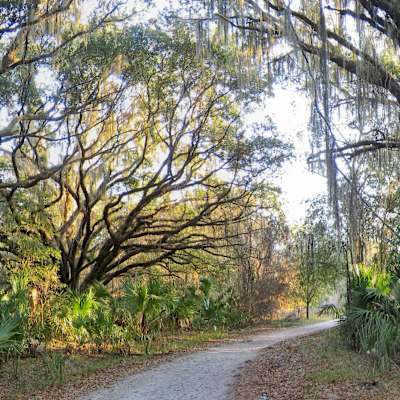 100% Recommend (4 Responses)
How many restroom/shower facilities can one campground have?! Come find out at Paynes Prairie Preserve where they have not three, not four, not...
Julie Ann: This was an awesome sight if you love wildlife. Otherwise there isn't much else to do. We went on a walk around the prairie and...
1 Save
1 Review
This was an awesome sight if you love wildlife. Otherwise there isn't much else to do. We went on a walk around the prairie and saw wild horses while a pack of buffalo blocked the rest of the trail. We also saw a variety of birds and weren't lucky enough to see any gators while we were there, though we heard plenty of stories. I was happy about that! We took some video footage and it was compromised, so we will be back again and I'll leave a more in depth review. All in all it was a well kept location!
Helpful 0
Helpful 0
Remove vote :(
History of Paynes Prairie Preserve State Park
Waves of diverse people settled the area for over 12,000 years, each wave eager to utilize the lush land to fill their needs. A rich prehistory of Paleo, Cades Pond and Alachua people were followed by the historic Potano Indians, Spanish adventurers, Seminole Indians and finally Americans pushing down from the north. The wilderness, now called Paynes Prairie, has always proved an irresistible lure to the explorer and the adventurer. Hunter/gatherers were followed by hunter/farmers both Native American and European. They were followed by cotton farmers, citrus farmers and then cattlemen.