About Manatee Springs State Park
One hundred thousand thousands. One million hundreds. Ten million tens. Or more simply, 100 million. That's how many gallons of pure, crystal-clear water the Manatee Spring produces EACH day (sometimes more!). Filtering into the Suwannee River, park goers can enjoy each and every drop, while they swim, canoe, kayak, snorkel or SCUBA dive these pristine waters. 8.5 miles of trail also offer guests the chance to hike and bike through dazzling forests of maple, cypress, sweetgum and ash among the park's 2,075 acres. Anglers will find a warm welcome here too, as swarms of perch, catfish, bream, bass and longnose gar wriggle their way down the spring run into the river. Come in the spring or fall and you might just find yourself being carted around the park on a good old-fashioned wagon ride. By the way, while you're here don't forget to stop by Catfish Hotel! And yes, we are going to leave you on that cliffhanger without explaining what that really is. Guess you'll just have to stop by and see what it is for yourself!
Campgrounds in Manatee Springs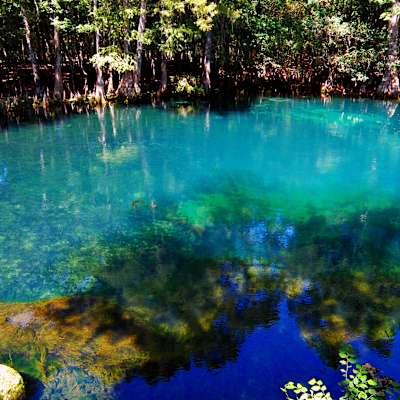 Who needs showers when you've got the purified, turquoise waters of Manatee Spring to bath in? Though we prefer to go "au naturale" and take...
17 Saves
2 Reviews
No one? Bueller? Sharing is caring, y'all.
Drop some
Manatee Springs
knowledge on us.
History of Manatee Springs State Park
For millennia, Manatee Springs and the surrounding area have provided a home site and livelihood for humans. Artifacts found in the spring and adjacent areas indicate that people have been living and raising their families here for at least 9,000 years. The arrival of Spaniards during the 1500s brought an end to a series of cultures that lived in harmony with the earth for thousands of years. In 1774, William Bartram, a naturalist, botanist and artist, traveled through the area while exploring the Southeast. Later, he wrote a book about his travels, in which he described Manatee Springs in detail and noted the presence of manatees.