About Little Talbot Island State Park
The vagaries of modern life got you in a tizzy? Escape to Little Talbot Island State Park, where nothing much changes except for the tide going in and out. Seriously, the north end of the park's beach is known as "the graveyard" because of all the dead trees and driftwood that dot the shore. Despite the depressing name, it's actually a super peaceful place for a solo stroll. With five miles of shoreline, the park's also a great place for shelling, fishing, kayaking, and surfing -- catch the best waves on the north end of the beach. A little inland you'll find miles of hiking trails that wind through hardwood hammocks, salt marshes, and desert-like dunes. Rent a bike, or bring your own, and peddle on the two miles of paved park roads or on the packed sand of the sea shore. Race the Peregrine Falcons often spotted soaring above -- although, you should manage your expectations. These birds are the fastest animals on the planet, so you'll probably lose. You won't mind though, since Little Talbot Island will get you in a super zen state. Breathe in the salty air, and exhale a deep ahhhh.
Campgrounds in Little Talbot Island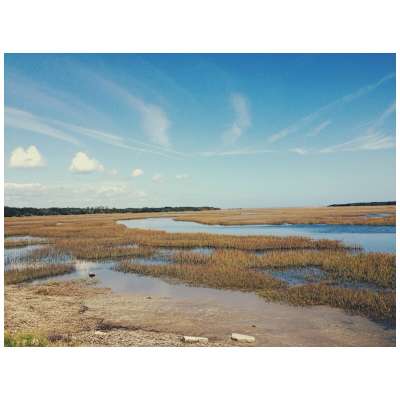 Surrounded by sugar-white sand dunes, majestic old oaks, and Southern magnolias, Little Talbot Island Campground provides a serene spot to drift to...
10 Saves
History of Little Talbot Island State Park
Native Americans were the first humans to hunt and fish these barrier islands. In 1562, the French Huguenots arrived and named them the `Timucua'. Over the next 200 years, the French, English and Spanish lived here. In 1735, General James Oglethorpe named the Talbot Islands in honor of Charles Baron Talbot, Lord High Chancellor of England. In 1845, Florida became the 27th state.