About Little Manatee River State Park
Over the river and through the woods to scenic Florida vistas we go! Soak up the sunshine at Little Manatee River State Park, where the pretty pine flatwoods make the perfect picnic spot. Launch a canoe or kayak on the river and paddle over the black water, stained—like tea—from natural river debris. Score some bream, bass, and catfish from the river if you bring a fishing pole. Or you can explore the swiftly changing natural environments of the park on land via a 6.5-mile hiking trail, which loops through swampy marshes, hardwood hammocks, and pine flatwoods filled with palmettos. It's like the hiking equivalent of a sampler plate—you get to try a little bit of everything! Bringing a four-legged friend who doesn't mind when you ride him? We're talking about a horse, just to be clear—not your freakishly large dog. If so, check out the park's 12-mile equestrian trail that stretches out over the southern half of the park. Stop for a rest on the banks of Dude Lake, the manliest body of water in Florida (if we're going by the name). Then post up for the night at one of the park's full facility or primitive campgrounds, dreaming of what the next day will bring on beautiful Little Manatee River.
Campgrounds in Little Manatee River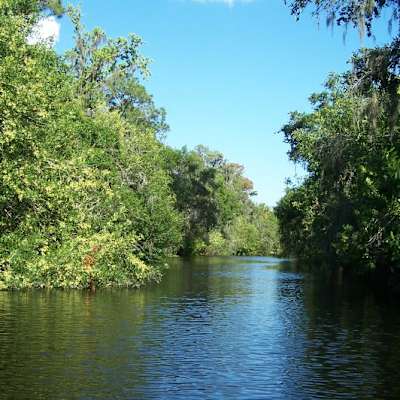 Settle down for the night in a secluded sand pine forest at Little Manatee River Campground. The 34 campsites here come tricked out with water and...
3 Saves
History of Little Manatee River State Park
Purchased in 1974 to provide additional outdoor recreational opportunities in the Tampa Bay region, this park has a variety of natural plant communities. These areas vary from the floodplain forest and low-lying hammocks near the river to the dry uplands characterized by sand pine scrub and scrubby flatwoods communities. Intermediate elevations feature pine flatwoods. Circular depressions in the flatwoods soils are occupied by grassy marshes or dome-shaped cypress swamps.