About Lake Griffin State Park
Disney World may only be an hour away, but the natural beauty and recreational bounty of Lake Griffin State Park is a mighty contender to the charms of Mickey and crew. The park's 620 acres of tranquil waterways and leafy lakeside shores include the sprawling Mammoth Oak, the second largest live oak tree in all of Florida and the crown jewel of an easily accessible half-mile nature walk. To access the lake, visitors can kayak or canoe through the Dead River, a meandering canal rife with wildlife including cormorants, anhingas, herons, soft-shelled turtles, ospreys, and friendly Florida alligators (well, maybe not too friendly--there's no swimming allowed). Ample fishing opportunities drew Native Americans to the lake thousands of years (yes, thousands!) before it was opened as a state park in the early '60s to accommodate recreational fishermen; bluegill, speckled perch, catfish, crappie, and bass are among the renowned aquatic offerings. Between the boating, picnicking, camping, canoeing, hiking, and fresh catch off the lines of lucky anglers, there's plenty of outdoors to explore at the lovely Lake Griffin State Park.
Campgrounds in Lake Griffin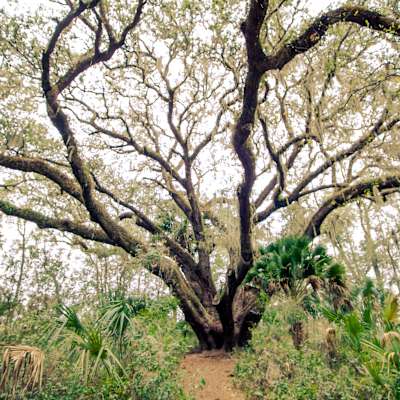 This 40-site campground is a convenient place to unwind after a day adventuring around Lake Griffin or cruising through central Florida on a road...
2 Saves
Reviews
No one? Bueller? Sharing is caring, y'all.
Drop some
Lake Griffin
knowledge on us.
History of Lake Griffin State Park
Native Americans traveled and fished in this area for thousands of years. The first white settlers, Major Orlando and Josephine Rooks, built their home in 1877 and named the town Fruitland Park. From 1904 until 1910 J.D. Robertson used tracts of longleaf pine that is now the park entrance, shop and ranger residence for a turpentine still. The land was used for farming and citrus through the 1920s and 30s. In 1946 the state purchased 383 acres of land but the surrounding hills were covered with orange groves into the 1980s. Work began on park facilities in 1961 after the state purchased additional acreage and the city of Fruitland Park donated four acres. The park opened in 1968.