About Jonathan Dickinson State Park
You definitely get a lot of bang for your buck when you visit Jonathan Dickinson State Park -- the park is home to no less than 13 different natural communities. That means you can explore pine flatwoods, mangroves, swamps, cypress forests, sand pine scrub, and (a lot) more all in one day. How you choose to explore the diverse flora and fauna is totally up to you: hike the park's three nature trails, or get peddling along both the paved and off-road bike trails. Kayak or canoe down the Loxahatchee River, or saddle up and take your horse trotting on the park's eight miles of equestrian trails. Whatever you choose to do, we have a feeling you'll wear yourself out by nightfall. The best way to unwind after sundown? With a little stargazing -- it's awesome here. So lay back (after you put on some insect repellent) and enjoy the starry show.
Campgrounds in Jonathan Dickinson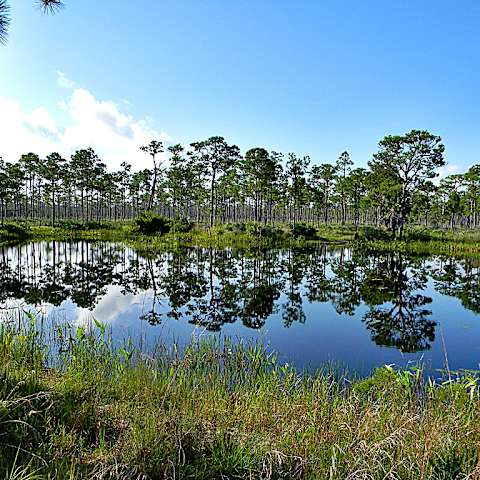 On the east side of the park near the ranger's station, you'll find Pine Grove Campground, nestled...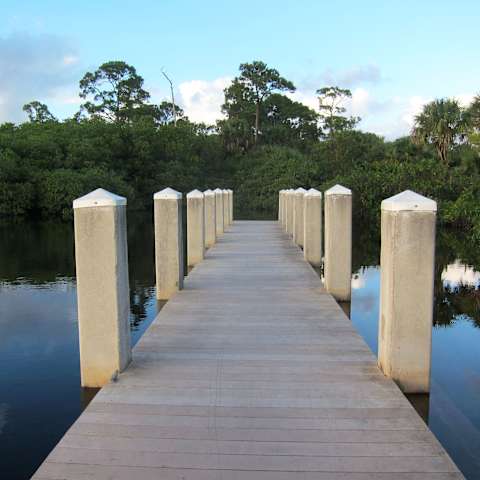 Season: I love this Campground! I live in Vero Beach so this is one I frequent. There is amazing kayaking...
3 Reviews
I absolutely loved camping here. In Florida it's rare to find the right combination of hiking trails with pretty forest coupled with canoeing and kayaking easy rentals with historical visit sites, alligator watching and chill camping altogether and more. Camping in this state is not cheap though there are some hike in spots available. Prepare to be really warm at night if you're from the north, you'll need mosquito repellent though for only that hour or so after the sun sets each night, otherwise it's just great here. We rented a canoe and paddled the two hours stretch of the Loxahatchee River to the wild man encampment and en route found ourselves in the middle of a group of five big manatees munching river grass even.
Remove vote :(
I love this Campground! I live in Vero Beach so this is one I frequent. There is amazing kayaking down the Loxahatchee river, and you can drop off a couple hours up river, and end up right at your campground. The wild life here is bountiful, I have seen Bald Eagles with eaglets, Alligators, Manatee and Otters. The racoons will pillage your site if you aren't careful.
I know they recently renovated the River Campground and I am looking forward to seeing that this year.
Remove vote :(
Nice but the other campground in the park is better. Quiet even though it is closer to the road. Avoid the handicap sites because people will walk through your site even though a sidewalk is provided.
Remove vote :(
History of Jonathan Dickinson State Park
The 11,500-acre park is named for Jonathan Dickinson, a Quaker merchant whose vessel shipwrecked nearby in 1696. During World War II, the land the park now occupies was home to Camp Murphy, a top-secret radar training school with over 6,600 men. The land became a state park in 1950. Far upriver is the Trapper Nelson Interpretive Site, the restored homestead of a man who came to this area in the 1930s and lived off the land, trapping and selling furs. He became famous as the 'Wildman of the Loxahatchee,' opening his 'Trapper's Jungle Gardens and Wildlife Zoo' to the public.