About Falling Waters State Park
The main draw of Falling Waters is, naturally, a waterfall. A 73-foot waterfall, to be exact-- the tallest in the state. Now, if you're like us you're probably thinking: 'How the heck does flat ole Florida have a waterfall that tall?' Well, it sort of cheats by falling past terra firma and into a cavernous 'sink' or sinkhole which, if anything, makes it an even cooler sight. The rest of the park has other sinks that are traced by hiking trails as well as a nice lake to swim in. The park is right off of I-10, so it's easily accessible. Oh, and there's a butterfly garden too, if you're into that sort of thing. Personally, we're too edgy for butterflies. Except for the ones on our Lisa Frank folders—those are awesome.
Campgrounds in Falling Waters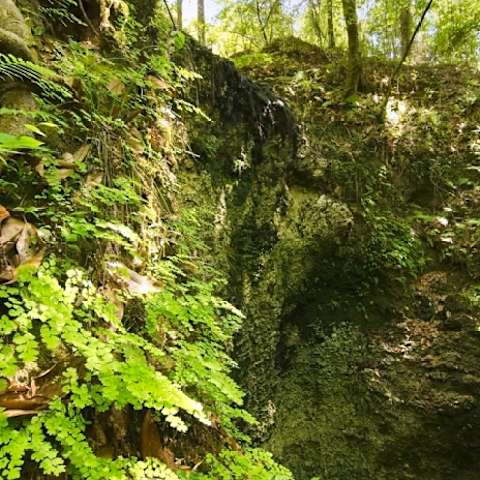 Try not to get altitude sickness at this campground, located 324 acrophobia-inducing feet above sea...
1 Review
No one? Bueller? Sharing is caring, y'all.
Drop some
Falling Waters
knowledge on us.
My wife and I took our kids on a road trip and one of our stops was at Falling Waters State Park. We hiked to the waterfall and we did the sinkhole boardwalk hike as well. They were great even though the waterfall was not too impressive that day.
There is also an oil plug on one of the trails leading to the lake, and there used to be a huge oil rig right behind the waterfall. At the lake though, our family had a lunch picnic on the picnic tables and we had a fun time playing in the water. We made a little video of it so that you can get a better idea of what this park is like. https://www.youtube.com/watch?v=I0UdClzZI4I
Remove vote :(
History of Falling Waters State Park
History and Culture
During the 1778 British occupation of Florida, Native Americans lived on Falling Waters Hill and the surrounding area. No written records remain but artifacts are often found after a field is tilled. Two industries operated near the waterfall -- a gristmill powered by the waterfall ground corn into grits and cornmeal during the Civil War period, and in 1891, a legal whiskey distillery furnished spirits to an area wine shop set up for railway construction workers. In 1919, one of Florida's first oil wells was drilled at Falling Waters. Indian legends and a wildcat stock promoter's claim of oil helped get the project going, but the drillers had little luck. When a depth of 3,900 feet was reached, a blow of gas gave area residents a false sense of hope. Promoters continued to drill to a final depth of 4,912 feet but with no commercial quantity ever found, the well was capped in 1921.
Oil Well
From a Spanish diary written 400 years earlier, speculators believed there was oil in what is now Falling Waters State Park. They started a drilling operation in 1919 using a wooden derrick and a steam-driven engine. After drilling nearly 5,000 feet, no oil was found in any commercial quantity. The well was capped in 1921 and all that remains is the sludge pit for the well and a stately magnolia tree that marks the site.
First Oil Well
This photo of the oil drilling operation on Falling Waters Hill in 1920 actually shows a plume of steam coming from the side of the structure. Mother Nature and time have wiped away most signs of the industrial activities that once took place in what is now a state park. Today, a concrete-capped well stub and oil sludge pit remain and an interpretive display explains this historical site.
The Campfire
The campfire holds a special place in the hearts of people all over the world. It is where the evening meal is cooked; it provides warmth on cool nights, and it is a place where people gather to share stories and traditions. Walk through a Florida state park campground during the evening hours and families and friends can be seen enjoying each other's company - all taking place around a campfire. (Photo, Dana Haynes.)
Staff & Volunteers
Falling Waters State Park has been fortunate over the years with folks that have a desire to give back. This photo represents just a few of the many volunteers who have helped maintain and improve the park. The individuals in this photo have just received the President's Volunteer Service Award for their commitment to the park.
Butterfly Weed
Florida is special in many ways. One is that many of Florida's ecosystems are fire dependant. Falling Waters State Park has the special distinction as the first park to perform a prescribed burn. The butterfly milkweed in this photo is growing as a result of a burn that took place only two months before the picture was taken. Without fire, this plant species and many others would lay dormant or disappear altogether. Prescribed burning allows the ecosystems to thrive while helping to prevent more destructive wildfires.