About Dry Tortugas National Park
There's no such thing as a quick jaunt to Dry Tortugas National Park; getting to the string of seven islands requires crossing 70 miles of open water via boat or seaplane from the Florida Keys. But this park's remoteness is what makes it worth a visit (fun fact: Dry Tortugas is actually closer to the shores of Cuba than the American mainland). Sitting smack between the Gulf of Mexico and the Atlantic Ocean, the Dry Tortugas chain of keys served as an important navigational marker for overseas trade routes -- and it also served as the site of a lot of shipwrecks. Explore the sunken ships and coral reefs that sit just below the turquoise water via a snorkeling or diving expedition. See if you can spot colorful reef fish, nurse sharks, sea turtles, or -- gulp -- an endangered American crocodile. There are also great spots for fishing and kayaking throughout the park, just be sure to bring your own supplies and sea vessels since there are no rentals out here. And a trip to Dry Tortugas wouldn't be complete without a tour of Fort Jefferson on Garden Key. Construction of the fort began in 1845 but was never really finished, though its moats and lighthouse make it an interesting visit today. Oh, and we should warn you: don't plan on uploading any Instagram snaps while at this park -- cell service is practically nil. But hey, that's just gives you more uninterrupted time to soak up the sun, sights, and history at this tropical outpost on the edge of America.
Campgrounds in Dry Tortugas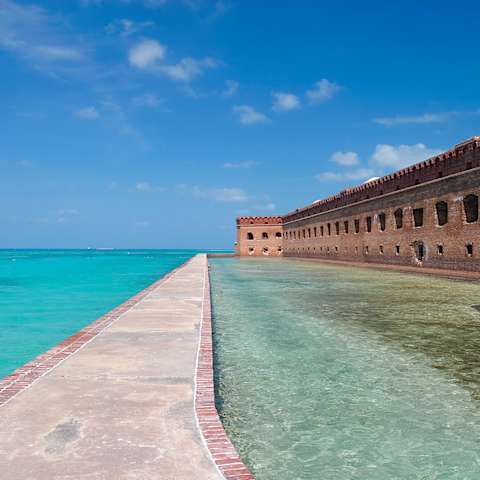 Want to hang out in paradise for a few days with all your closest buddies? Try reserving the group...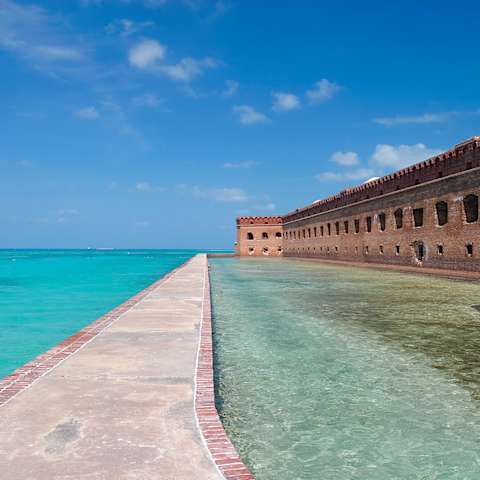 Cheri: Reservations are required. Pack all food in airtight containers to discourage rats. Propane...
3 Reviews
No one? Bueller? Sharing is caring, y'all.
Drop some
Dry Tortugas
knowledge on us.
Reservations are required.
Pack all food in airtight containers to discourage rats.
Propane containers (i.e. Coleman Propane)are not allowed. Self starting charcoal or sterno cans are the only form of fuel allowed.
Arrive at the Yankee Freedom III, on the day of your departure to Fort Jefferson, NO LATER THAN 6:30 AM! Yankee Freedom III will only transport campers who wish to stay.
Limit your provisions & coolers to 60 pounds per person (not including water).
There is no store or showers.
A total of 3 kayaks/small canoes transported on any trip. $20 fee each
Quiet hours from 10 PM to 6PM.
Campers must have all gear on the dock (NOT left in camping area) by 10:30AM on the day of departure from Ft. Jefferson
Remove vote :(
Do not attach anything to a tree. Campground trees & shrubs are crucial for providing shade and windbreak. Help protect this valuable vegetation. Do not attach ropes, hammocks, tents, laundry lines, or any other materials to campground trees. All camping gear must be free standing*.
• The 11 campsites are available on a 1st come, 1st served basis. However, the Park Service reserves the right to designate camping sites to visitors of the park.
• Space is limited. Each of the regular campsites contains a table & grill. Three tents & 6 campers are the maximum allowed per campsite. All tents must remain within 10 feet of your table. Be prepared to share the limited campground area with others.
Remove vote :(
The ferry costs $195 return. If you choose to park your car there, it costs $15 per 24 hours. https://www.drytortugas.com/key-west-camping
The Park Service will collect a campsite fee of $15 to $30 per night based on the size of your party. This fee is payable to the National Park Service once you are at Fort Jefferson. Correct change is appreciated.
Remove vote :(
History of Dry Tortugas National Park
Fort Jefferson National Monument was designated by president Franklin D. Roosevelt under the Antiquities Act on January 4, 1935. (Comprising 47,125 acres (19,071 ha) The monument was expanded in 1983 and redesignated as Dry Tortugas National Park on October 26, 1992 by an act of Congress.
Dry Tortugas was established to protect the island and marine ecosystems of the Dry Tortugas, to preserve Fort Jefferson and submerged cultural resources such as shipwrecks, and to allow for public access in a regulated manner.
The rich cultural heritage of the Dry Tortugas all begins with its location 70 miles west of Key West, Florida. The seven keys (Garden, Loggerhead, Bush, Long, East, Hospital, and Middle) collectively known as the Dry Tortugas, are situated on the edge of the main shipping channel between the Gulf of Mexico, the western Caribbean, and the Atlantic Ocean. The strategic location of the Dry Tortugas brought a large number of vessels through its surrounding waters as they connect the Atlantic Ocean and the Gulf of Mexico. Early on, the shipping channel was used among Spanish explorers and merchants traveling along the Gulf Coast.