Jennifer M.
Hipcamper since April 2021
Past trips
Past trip
in
Meredith G.'s Land
,
Illinois
A magical time with the horses
I'm so glad we stayed here because camping at a horse farm is a unique experience! I am grateful for the beautiful and powerful images of the horses at dusk and dawn around our tent. These are memories I will always cherish and I don't know where else I could have experienced this!
Things we learned that might be helpful to know:
1. There is a footbridge just before the campsite with two picnic tables and a fire ring. We decided it might not be a good idea to drive a big SUV over the bridge. So, we ended up hauling our stuff on foot over the bridge. Smaller cars could definitely drive over. It's fun to watch the 15-30 horses come over the footbridge at night and return at dawn.
2. We needed to move some horse poop so we could set up our tent. It was OK because we had a campfire shovel.
3. The campsite is next to a picturesque, old wooden train bridge. It's beautiful! Our first night in the camp we heard a train at 9:30pm and 6:30am. The second night it was 2:45am. If you don't mind being woken up, it is an amazing, surreal experience to be enveloped by the sound. We stayed awake that morning and enjoyed the experience of the horses around our tent as the sun came up!
4. We learned via internet that horses only sleep 3 or 4 hours over the course of 24 hours and have excellent night vision. It was amazing and impressive to hear them chomping, snorting and sometimes running around in the darkness outside our tent!
5. In addition to having some excellent shade trees at the campsite, the little creek is ice cold! We set up camp in a heat index of 108! Two folding chairs by the picnic table are excellent for sitting in the creek, which is shallow--about ankle deep in most places. In the afternoon, it's in the shade and minnows like to jump--sometimes completely--out of the water to eat insects, One dusk, a beautiful Green Heron landed on a branch to eat minnows while we sat at the picnic table! We also saw crayfish.
6. When you enter, you drive past 2 sets of open red gates. The second gate will be closed with a chain at dusk when the horses are let out for the night. The first night we had to leave to cool off after setting up camp. After dinner, we returned in a downpour shortly after dark and mistakenly thought the second gate was locked. After trying to reach our host for 10 minutes, we decided to get a hotel room and come back in the morning. She texted us that the gate is not locked! But, I think we would have been too unsure on our first night of how to drive back down to our campsite in the dark, through the horses, in the downpour.
7. We took an amazing horse back ride at sunset on our second night through several creeks and beautifully wooded areas with lush, old trees. These same trail rides came by our camp every day. (We were warned the trail rides would be running all day on that particular Saturday.) There are areas to camp if you can drive over the footbridge that seem more private. They look beautiful and lush, but there is no picnic table or fire ring anywhere but by the footbridge. I believe the trail rides still might pass your tent and you will probably hear Fox River Drive traffic no matter which campsite you choose.
8. In the mornings, we saw so many hummingbirds just a short walk from our tent--sometimes four at a time. We saw all of these birds while camping here:
Indigo Bunting
Northern Flicker
Red-bellied Woodpecker
Downy Woodpecker
Hairy Woodpecker
Northern Cardinal
Ruby-throated Hummingbird
American Robin
Eastern Kingbird
Turkey Vulture
Red-tailed Hawk
Mourning Dove
Green Heron
Northern Rough-winged Swallow
Black-capped Chickadee
House Finch
European Starling
Dickcissel
Gray Catbird
House Sparrow
Blue Jay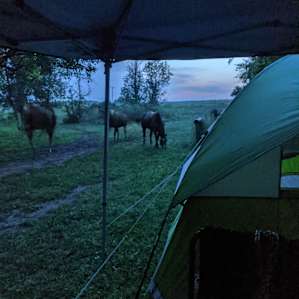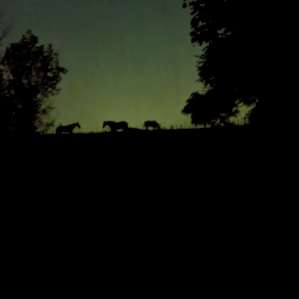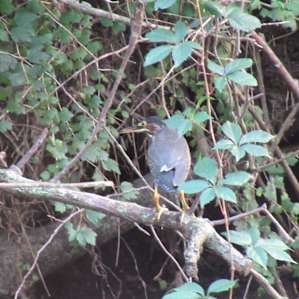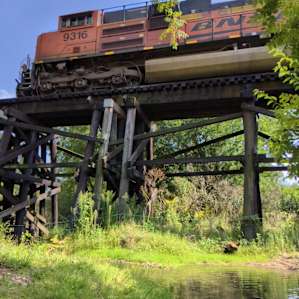 Past trip
in
Matt G.'s Land
,
Illinois
We enjoyed Matt's peaceful, beautiful land between Bureau Creek and the Hennepin Canal! It took us a little while to understand where Matt's road was vs. the Hennepin Canal tow road. Once we oriented, we decided on the rocky beach campground, which we shared with some other campers for the weekend. It was definitely big enough for all of us to have our own space! And we were able to easily make a flat patch to pitch our tent among the river rocks where we slept comfortably!
The only challenge was the lack of shade. However, our favorite part of the campsite was the small, swift flowing river. We enjoyed sitting in the cool, shallow water--not far from a beaver dam it seems! The beavers would come out at dusk. One day, we looked up to see three kayakers maneuvering around the beaver dam and a fallen tree. The ever-present sound of the water was lovely. And Matt had firewood for us to build a fire on the shore in the evenings.
We tried to go canoeing but they were too heavy for us to move at all. We also tried to go fishing but couldn't find an easy place to cast in the canal because we are novices.
We saw two beavers, a chipmunk, a frog, a raccoon, a snake, four rabbits, a squirrel, a crayfish, and the following birds:
Pied-billed Grebe
Turkey Vulture
Bald Eagle
Eastern Kingbird
American Goldfinch
Indigo Bunting
Great Blue Heron
Green Heron
American Crow
House Wren
American Robin
Red-winged Blackbird
Common Grackle
Northern Cardinal
Rose-breasted Grosbeak
Barn Swallow
Past trip
in
Stuart P.'s Land
,
Illinois
Lots of trees and a prairie style
Stuart was gracious to let us stay even after he had to close the campground for a while. He was very polite when we arrived. We loved having the campground to ourselves, sitting in the shade by the creek or bird watching while walking the track. We saw a chipmunk, 2 deer and the following birds:
Canada Goose
Mallard
Mourning Dove
Turkey Vultures
Downy Woodpecker
Least Flycatcher
Blue Jay
Cliff Swallow
Gray Catbird
Brown Thrasher
American Robin
American Goldfinch
Red-winged Blackbird
Northern Cardinal
Rose-breasted Grosbeak
Indigo Bunting
Dickcissel
Jennifer's lists
---
Your saved campground
Jennifer hasn't saved any listings yet.
Jennifer hasn't gone on any trips yet.
Hipcamp Hosts can leave an optional review of their Hipcampers after the trip is completed. This is where those reviews from Hipcamp Hosts will appear.