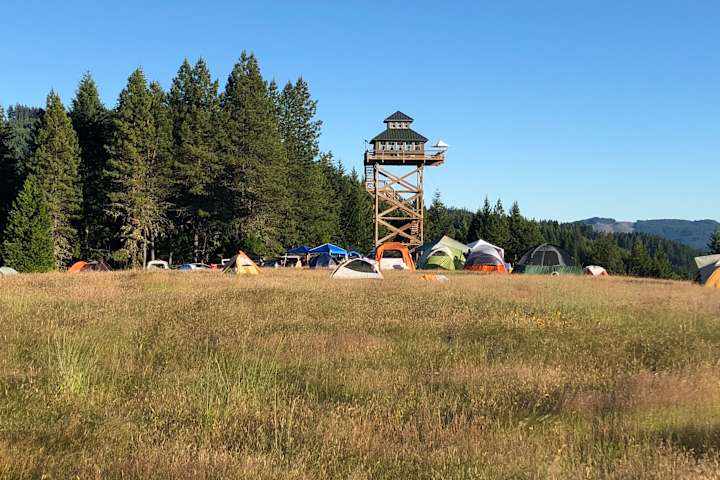 Summit Prairie-Large Group Camping!
Nearby: Valley of the Rogue State Park, Crater Lake National Park
Dabney and Alan has self-certified that Hipcamp's COVID-19 Safety Standards have been implemented at this listing. See what's being done
here
.
WE HAVE TWO LARGE GROUP WEEKENDS AVAILABLE IN 2022 - AUGUST 11-15 AND AUGUST 25-29.  Please contact us if you're interested in in those dates.  Our 2022 season will run early April, 2022 through mid-November, 2022.   We recommend mid-June through late September for the best tent camping weather.
We bookup very far in advance and have limited availability so contact us
Read more...
WE HAVE TWO LARGE GROUP WEEKENDS AVAILABLE IN 2022 - AUGUST 11-15 AND AUGUST 25-29.  Please contact us if you're interested in in those dates.  Our 2022 season will run early April, 2022 through mid-November, 2022.   We recommend mid-June through late September for the best tent camping weather.
We bookup very far in advance and have limited availability so contact us soon to reserve your 2023 Large Group Camping.
Price is for up to 20 campers with a $10 per night charge per additional camper up to a maximum of  30 - Check in Thursday until Monday (4 nights) or check in Monday until Thursday (3 nights).  Four people can stay in the lookout with linens provided and a fully equipped kitchen.  Other guests can bring their tents and sleeping bags and set up anywhere on the 160 acres of private land, deep within the Umpqua National Forest.  We are completely off-grid and miles from the nearest neighbor.  You'll experience silence and solitude unlike you've ever experienced before!
INFORMATION ABOUT THE LOOKOUT
Built in 2009, the lookout tower is modeled after Fire Lookout Towers built by the US Forest Service in the early 1900's.  However, it's enhanced with modern essentials: a full kitchen featuring hot and cold running water, propane stove, refrigerator, heater and lamps, exterior shower, comfortable queen size bed in the cupola and two twin beds on the main floor with windows all around to let in summer breezes and breathtaking views.
Be aware that the lookout is one big room, so  "private space" for changing clothes or showering is minimal!
The tower is 40 feet high, accessed only by four flights of stairs - there is no elevator! And, while there are landings for each set of stairs (to admire the view, and catch your breath!), everything must be carried up!
Spring water is pumped upstairs by a solar-powered pump from the a collection tank a few hundred feet from the tower.  The water is tested as safe. We have been drinking it ourselves for years, but if you're squeamish about drinking untreated water, you might want to bring bottled drinking water.
INFORMATION ABOUT CAMPING AT SUMMIT PRAIRIE
You and your group will have the lookout and the entire property to yourselves while you are here. We may be staying in the summer house/bunkhouse which is on another part of our property, out of sight from the lookout and fire pit/picnic table area.  We are there if you need anything but will stay out of your way as much as possible.
Equipment - In addition to the equipment that is provided in the lookout, we can arrange for you to rent other items - 13 X 13 "Party Tent", outdoor games, beer keg dispenser and campfire rotisserie.  If you're wanting to tread lightly on the landfill, we have dishes, glasses and tableware for up to 30 people (be sure you assign someone dishwashing duty!)  We can even arrange for a local band to come and perform one evening! (subject to availability)  Contact us for a complete price list of available items/services.
Campsites - You are free to pitch your tent anywhere on our 160 acres - either in the woods or on the meadow.  You can have as much interaction with other campers or as much privacy as you'd prefer.  Please note that some of the more remote areas of our property do not have vehicle access and are not close to water or bathroom facilities.
Bathroom facilities - We are off grid so the bathrooms are two pit toilets (nice ones, we might add) one about 100 feet from the base of the tower and the other about 500 feet away, next to the Summer House/Bunkhouse.  We have a "pee can" in the upstairs cupola sleeping area of the lookout, a "pee funnel" off the side of the tower and an "emergency potty" outside on the deck of the tower.  It's actually pretty civilized, all in all, but it's not like having a flush toilet just a few steps away.  The hot shower is outside on the deck of the lookout - in front of God and everyone, but then, there isn't anyone else here!  Or, you can take an outdoor shower at the Summer House with relative privacy.
OTHER THINGS TO CONSIDER
Please note that we do not have a television, clock or mirror and we have no WiFi access!
Fire Season - During late summer forest fires are possible in the area.  That could restrict campfires and use of the hot tub and it could result in smoky air.  We will let you know immediately if there are fires.  If smoke or fire in the immediate area of the Summit Prairie poses a threat to health or safety, you may cancel your reservation with no penalty.  Fire season generally runs from mid-July through late September.  
Location - We are located about 10 miles out of Tiller, Oregon with the last six miles on a one lane gravel forest service road which can take 20 to 30 minutes to drive.  Tiller is at 1,000' elevation and we are at 3,500' elevation so the weather up here is generally 10 degrees cooler than it is in Tiller.
Groceries - If you are coming from the north, the nearest grocery store and gas station is in Canyonville, OR (Ray's, 151 NE Main St., open 7 am - 10 pm) about an hour away.  If you are coming from the south or the east, in Shady Cove, OR (Shady Cove Market, 22111 Highway 62, open 7 am - 10 pm), about 45 minutes from the Summit Prairie.  You're probably better off shopping at a supermarket in an urban area because these grocery stores are expensive and have very limited selections.  Make sure you're full up with gas and food because there are no gas or grocery facilities once you leave either of those towns.  
WHAT TO BRING
Sheets, pillows, blankets, towels and dish towels are provided for up to four people staying in the lookout.  All other guests should bring the following items:
- Tent
- Sleeping bag
- Air mattress or sleeping pad
- Pillow
- Camp chair
- Towel
- Swim suit (or not, we don't have any rules)
- Warm clothes for the evening
- Insect repellent (usually not a problem but better safe than sorry)
- Books or games?
- Food and drink for while you are here (there is a full grocery store in Canyonville (about an hour away at exit 99 off I-5) and in Shady Cove (about 45 minutes away and over the Rogue/Umpqua Divide Pass...).  There are also several restaurants in Canyonville and in Shady Cove.
The upstairs cupola sleeping area has a queen size Tempurpedic mattress and is accessed by a ladder which can be tricky and requires being steady on your feet.  On the main level are two twin size beds, on either side of the room. Linens are provided for both twin beds and the upstairs queen-size bed along with towels and washcloths for up to four people.
We have all the pots, pans, utensils and small appliances that you will need to cook, but no microwave or dishwasher.  We have basic spices and condiments so feel free to use what we have.  We have a saying - "just because you're off-grid does not mean you have to eat bad food!" We have glasses, cups, dishware and tableware for up to 4 people in the lookout.  Items for over 4 people should be brought with you or you can arrange to rent them from us.
We have a small under-counter propane-powered refrigerator with a freezer compartment. It has limited cooling capacity during hot weather so consider bringing a cooler and ice if you're bringing a lot of food items that need to be kept cool.
We have 5 picnic tables and fire pit at the base of the tower.
Environment - We are located deep within the Umpqua National Forest so there are wild animals that roam freely in the area - deer, elk, bear, cougar, coyote, bobcats, skunks, mice, lizards etc.  There are also insects on the ground, in the air and sometimes in the cabin.  We don't find insects to be a problem, but have a few temporary window screens if you wish to use them.  Poison oak is native here which we do our best to keep it under control and out of areas where you might come in contact with it.  However, we do have Tecnu wash if you get a rash from Poison Oak.
Pets - You may bring your pets but that are not allowed up the stairs in the lookout under any circumstances.  Please be aware that unruly pets can ruin the experience for everyone.
Children - This property is not suitable for children under the age of 5.
Cell phone service - Verizon, US Cellular, AT&T and T-Mobile work at the Summit Prairie.  We're not sure about other carriers.  We have Verizon service and a personal WiFi hotspot on our phones in case of an emergency.
Electricity - We do have a small solar-powered electrical system is used to for some lighting and charging cell phones and small computers.  It can only handle 300 watts and it cannot handle any appliance with a heating element - hair dryer, coffee maker, etc. (we have a French press you can use).  We are diligent about conserving electricity, especially if we have several days of cloudy weather.
The nearest hospital/emergency medical facility is in Medford, a little over an hour away or in Roseburg, about an hour and a half away.
WEATHER AT THE SUMMIT PRAIRIE THROUGHOUT THE SEASON
April/May - The meadow is in peak bloom, carpeted with waves of wildflowers, beginning with low-growing buttercups, then Oregon Sunshine and purple larkspur later in the month. Deer and elk graze in the meadow almost every evening and early morning. As the sun sets in the evening, you'll hear the frogs down in the valley singing their hearts out. It is Spring, however, and the chance of rain remains high.  Temperatures are usually in the mid-60's during the day and low 40's at night. We've had snow as late as Memorial Day (in the US, it's usually the last weekend in May), though that is rare.
June - The meadow continues to bloom, the grasses get tall, and the deer continue to graze in the meadow.  Birds can be seen and heard, especially early in the morning. Usually we see purple finches and juncos at our feeder. We still have a good chance of rain, but temperatures are a bit warmer, into the mid-70's during the day.
July - Probably the best all-round weather month - rain tapers off and the skies become perfect for star gazing at night.  The wildflowers begin to fade, the grasses begin to turn amber, and the deer move on to other places to graze. It's also the season of thunderstorms, which can be dramatic to watch in the late afternoon.
August - The best star gazing month of the year!  The meadow becomes very dry, the grasses drop all pretense of being green, and temperatures rise into the 90's during the day.  Evenings are usually warm enough to stay up until the wee hours watching the Perseid meteor showers. Forest fires can occur in the area which can make the air hazy and sometimes smell smokey.  Some years we may have to close if forest fires come too close. Grasshoppers can overtake the meadow on some days.
September - The meadow starts to become golden. Even the sunlight takes on a golden hue.  Temperatures top out in the 80's and the air is dry with a hint of cool in the evening.  On one level it can be the quietest time of year. Forest fires can still be a problem to be alert to.  Grasshoppers can overtake the meadow on some days, but they never come up to the lookout tower.
October/November - Fall is in the air. Harvest time is here. The farmers markets are full of good produce. Temperatures cool off, and moisture rises, which can mean waking up to fog in the air and leaves dripping softly in the woods. Nighttime can be chilly, perfect for steaming drinks and a cozy blanket. If there have been forest fires, they have subsided. Deer hunting season begins in early October, so you may also hear the sound of baying dogs and gunshots in the area.
OTHER POSSIBLE ACTIVITIES
Sip cocktails and watch the sunset from the deck of the lookout
Sit around the campfire and tell ghost stories
Read a book in one of the many secluded spots
Hike the 3 mile trail around our property and the adjacent Forest Service Property.
Soak in our spring fed, wood fired hot tub.
Hike in and swim at the very secluded Fish Lake in the Rogue-Umpqua Divide Wilderness (about an 1.5 hour drive)
Slide over a waterfall at South Umpqua Falls (about an hour drive)
Kayak or canoe on Lost Creek Lake (about an hour drive)
Go skinny dipping at the "Swimming Hole" (about a 30 minute drive)
Raft down the Rogue River (about a 45 minute drive)
Star gaze
Be creative!  It's a big space...
And while simply chilling at Summit Prairie is oh-so-fine, think of this place also as a launch point for day trips to Crater Lake (2 hours), or Ashland, site of the Oregon Shakespeare Festival (1.5 hours), or historic Jacksonville, site of the annual Brit Festival (1.5 hours), or the Seven Feathers Casino in Canyonville (1 hour).
Imagine!   Kick back and relax, read a book, play a game (or three)… write in a journal, meditate… daydream in the hammocks down the hill… soak your cares away and relax in a secluded wood-fired, spring-fed hot tub… Even dance under the moon or sing to the stars.
Memories are made here.  
Come to Summit Prairie...
Check in: After 4PM
Check out: Before 11AM
Cancellation policy: Strict
On arrival: Meet and greet
Minimum nights: 4 nights
Accepts bookings: 12 months out
Response time: Within 6 hours
Activities
Offered on the Host's property or nearby.
Biking
Mountain bikes are allowed on Forest Service roads in the area but there are no specific mountain biking trails.
Fishing
Fishing in prohibited on the South Umpqua River but can be done at Lost Lake, about a 45 minute drive from us.
Hiking
We have hiking trails on our property or longer trails on nearby Forest Service property.
Swimming
You can skinny dip at the "Swimming Hole" (about a 30 minute drive away) or slide off a waterfall at South Umpqua Falls (about ...Read more
Wildlife watching
Lots of wildlife lives on our property, depending upon the season. Herds of deer and elk, flocks of wild turkeys and thousands...Read more
Terrain
Natural features you'll find at Summit Prairie-Large Group Camping! in Oregon.
Forest
We have 160 acres surrounded by the Umpqua National Forest. 40 acres is an open sub-alpine meadow. Other parts of the land ar...Read more
Hot spring
We don't have a natural hot spring but we do have a 4 person redwood hot tub that is spring fed and wood fired.
Mountainous
We are surrounded by a convergence of the Cascade, Siskiyou and Coastal Mountains.
Field
The meadow is about 40 acres and we also have an approximately 10 acre "mini-meadow" on another part of our land.
Places to see near The Summit Prairie
3 Reviews
This listing has no reviews yet.
If you stayed here and have some insider info for us,
let us know
!
Dabney & Alan are not only the best host, they are the best people. I had been stalking summit prairie for a few years and finally got my chance to book and it was everything I thought it would be & more. Dabney & Alan were always there when we had questions and had the best recommendations of activities in the area, they truly care that you have the best possible time while you are there. The look out itself was incredible and eclectic; showering every morning while overlooking the mountains was such a trip.
& again, thank YOU Dabney & Alan- we cant wait to see you again in the future.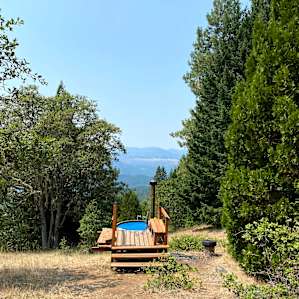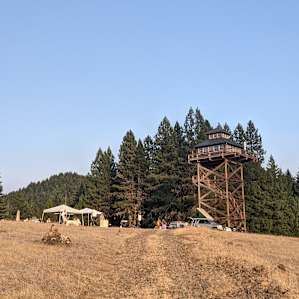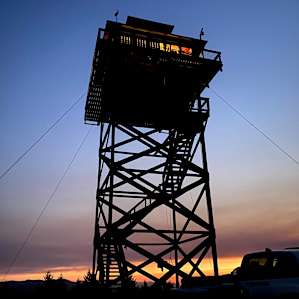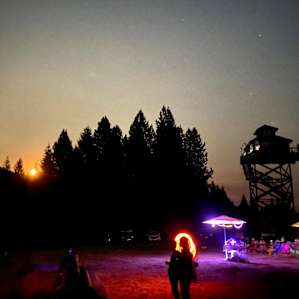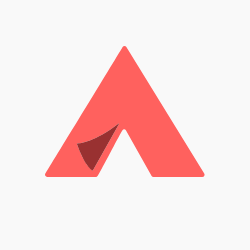 Gorgeous location and simply stellar hospitality. Dabny and Alan have thought of everything. The tower view is stunning and the group camping is great with wooded spots, a fire ring, picnic tables and plenty of space. We had a wonderful time!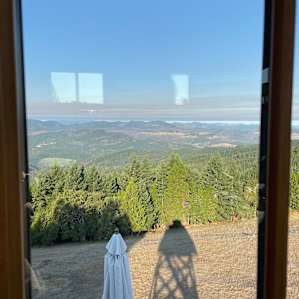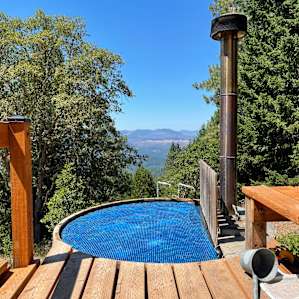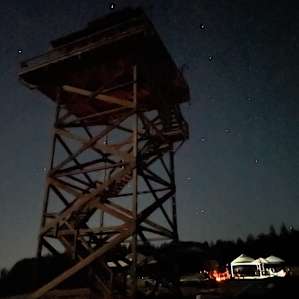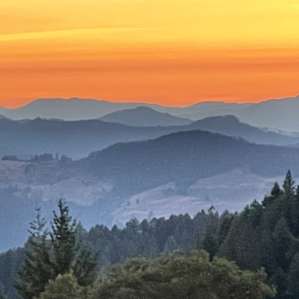 We reserved the Summit Prairie group campsite from Alan and Dabney and were impressed from start to finish. Dabney made absolutely sure I had all of the information I needed, including extremely specific driving directions, a full site walkthrough upon arrival to acclimate to the facilities, making himself available for any questions leading up to our trip and during our stay, etc. The process was smooth and easy, the hosts generous and kindhearted, and the space....well the space was exquisite. 20 of us pitched tents out in the prairie, we rented equipment from Dabney that helped make our stay even more comfortable, and we were able to "hide" in the lookout during some wet weather we had. Rain and all, it was an unforgettable experience. Our group certainly wants to return to Summit Prairie again someday!! THANK YOU ALAN AND DABNEY for cultivating such a magical spot and sharing it with us.
Lists including Summit Prairie-Large Group Camping!
1014 camps including Modern Mendocino Camping: Classic and The Sanctuary Treehouse
1957 camps including Caboose House in beautiful NY and Magic Meadow Cabin
---