View 10 photos
Calico Junction Ranch, Tennessee
88%
Recommendation based
on
4 responses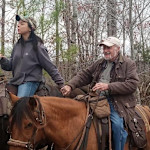 About
Located in the hills and high forests of Hohenwald, Tennessee, Calico Junction Ranch is a large, multi-faceted operation with over forty head of horses, breeding kennels for Long-Coat German Shepherds, and a modest Heritage Breed Hog farming operation.  Occupied by Native Americans as early as 10,000 BC, the Chickasaw Indians hunted our hills in the 1500's, and the ranch property is located along the Cherokee "Trail of Tears." The ranch was later home to a miner named "Grizzly Jack"... You can visit his cabin during your stay.  More recently, Calico Junction hosted benefits for St. Jude's Children's Hospital, and we regularly host dinner trail rides on weekends. Calico Junction New Beginnings Ranch is our non-profit 501(c)3 providing Equine Assisted Therapy and a horse rescue. Because Calico Junction has so much to offer, we have joine
Read more...
Located in the hills and high forests of Hohenwald, Tennessee, Calico Junction Ranch is a large, multi-faceted operation with over forty head of horses, breeding kennels for Long-Coat German Shepherds, and a modest Heritage Breed Hog farming operation. Occupied by Native Americans as early as 10,000 BC, the Chickasaw Indians hunted our hills in the 1500's, and the ranch property is located along the Cherokee "Trail of Tears." The ranch was later home to a miner named "Grizzly Jack"... You can visit his cabin during your stay. More recently, Calico Junction hosted benefits for St. Jude's Children's Hospital, and we regularly host dinner trail rides on weekends. Calico Junction New Beginnings Ranch is our non-profit 501(c)3 providing Equine Assisted Therapy and a horse rescue. Because Calico Junction has so much to offer, we have joined Hipcamp in order to give everyone the opportunity to enjoy our beautiful and relaxing ranch home.
Learn more about this land:
Pitch your tent in a beautiful meadow not far from a pasture with horses. Choose a site close to the main ranch or as remote as you prefer. We are a family-oriented operation where children are welcome. Explore the ranch on foot or arrange for a horseback ride or two. Bring your binoculars and get up early to catch the Great Blue Herons feeding near the bridge. You'll probably disturb them, but if you're quick, you may capture a picture of the Heron's graceful flight. Go wading, collect rocks or hunt for arrowheads in Rockhouse Creek--you are almost certain to find them, the best free souvenirs! Take nature walks to see our abundant wildlife: deer, wild turkeys, foxes, rabbits and squirrels, because they play here too! Tour the kennels and walk or brush the dogs upon request. Tell stories or play your guitar as you enjoy a relaxing evening campfire. Then listen to the Whippoorwills as they serenade you to sleep.  
Hmmm we couldn't find any listings within Calico Junction Ranch that match your search criteria. Try removing filters or zooming the map out and searching again.
---
Places to see near Calico Junction Ranch