View 31 photos
100%
Recommendation based
on
21 responses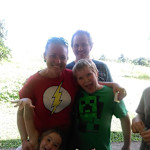 About
We are a working cattle property situated 15 minutes from the North Queensland town of Tully. We encourage you to explore our 350 acres of bushland, rainforest and open grasslands or used us as a base to explore the surrounding environment including the stunning Tully Gorge National Park or the beautiful Mission Beach and Dunk Island or just chill out and relax and enjoy the peace and quiet of the surrounding farmland.  Our campsites have near 300-degree views of the surrounding Tully Valley, down private gullies or open grasslands.

The options are up to you from adrenaline-fueled sky diving or white water rafting to bush or coastal walking, swimming in pristine fresh or saltwater or star gazing this region has it all.

Pets are welcome but must be under control at all times.

We have a passion for the environ
Read more...
We are a working cattle property situated 15 minutes from the North Queensland town of Tully. We encourage you to explore our 350 acres of bushland, rainforest and open grasslands or used us as a base to explore the surrounding environment including the stunning Tully Gorge National Park or the beautiful Mission Beach and Dunk Island or just chill out and relax and enjoy the peace and quiet of the surrounding farmland. Our campsites have near 300-degree views of the surrounding Tully Valley, down private gullies or open grasslands.

The options are up to you from adrenaline-fueled sky diving or white water rafting to bush or coastal walking, swimming in pristine fresh or saltwater or star gazing this region has it all.

Pets are welcome but must be under control at all times.

We have a passion for the environment, agriculture and reducing the amount of waste created by humans, we try to reuse and repurposing as much of our own and others waste as possible. You can follow our progress to transform our farm on the Facebook page Clearview - Tully.

We are fully off-grid, so you will need to be fully self-contained, a dump point and laundry mat is available in Tully if required. Campfires permitted.
Hmmm we couldn't find any listings within Clearview that match your search criteria. Try removing filters or zooming the map out and searching again.
---
Places to see near Clearview