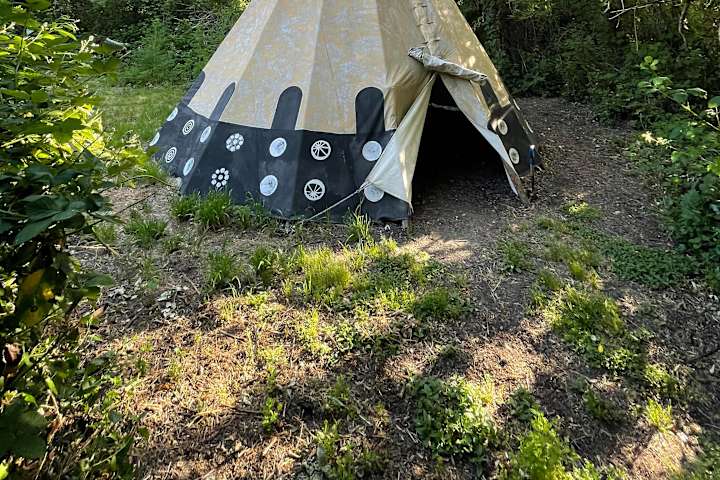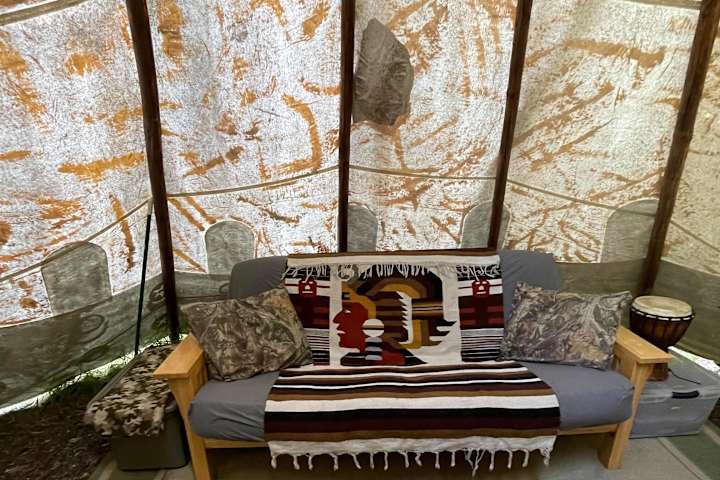 Otter Space Romantic Tipi
Nearby: Redwood National Park, Prairie Creek Redwoods State Park
Peter has self-certified that Hipcamp's COVID-19 Safety Standards have been implemented at this listing. See what's being done
here
.
Our Romantic Tipi is located next to our Riverview Yurt.  It has it's own path down to the Klamath River.  Ideal for two people, but if you want to bring friends or kids with sleeping bags, there's room!  It's authentic with a mulch floor, fire place with a grill you can cook on, and near by outhouse.  You can also use the fully equipped shower house up the hill with hot wat
Read more...
Our Romantic Tipi is located next to our Riverview Yurt.  It has it's own path down to the Klamath River.  Ideal for two people, but if you want to bring friends or kids with sleeping bags, there's room!  It's authentic with a mulch floor, fire place with a grill you can cook on, and near by outhouse.  You can also use the fully equipped shower house up the hill with hot water showers, sinks and flush toilets!
Otter Space is off the grid, through a Redwood forest and over a mountain down into the Klamath River valley. We have a 5 acre meadow, and orchard with 50 trees, peaches pears, apples, cherries, plums, pluots, apricots and grapes. We are right on the Klamath river on the Yurok reservation. It's a great place to come and recharge your internal batteries. (We have to start the generator to charge the other kind of batteries, because we're off the grid!)
We have a plenty of places to camp, and we have a shower house with two bathrooms and an on-demand water heater so folks don't have to wait for hot water. There is virtually no telephone or internet service to interrupt your peace and quiet.
We see lots of wildlife, we have silver foxes, a bald eagle, a family of river otters just downstream, ... we see vultures and blue heron and osprey who fly overhead when they catch a salmon and call to each other to brag about it! Sometimes we see timid black bears and we often have black-tail deer in the meadow.
We are surrounded by old trails made by the lumber companies 80 years ago when the clear cut all the old growth redwood on our side of the mountain, and now it's completely reforested with 200 ft tall Doug Fir, Madrone, Cedar, Oak, the pine species and Pepper wood trees.
MORE ABOUT OTTER SPACE...
The Otter Space Conference Center was purchased in 2002 by Dr. Peter Alsop as a place of peace and healing, where human service professionals come to train with Dr. Alsop and learn how to help children and families cope with issues such as chemical dependency, loss and grief, child abuse and trauma. We are located on the Yurok Indian reservation right on the Klamath River just outside Orick, CA. The name Otter Space comes from a family of otters that live just down river. It's also combination of "Artist's Space" and "Outer Space" and implies the importance of thinking "out of the box" and valuing music and the arts in healing and living our lives fully, as well as the need to pass on earth and people-friendly skills to help our children survive into the future.
Our Main House was built in 1952 and retains the flavor of the 50's. It houses a kitchen, dining hall, a living room, two bedrooms and a bathroom with a bathtub and shower. It currently houses Joe and Wendy Moore and their three children. Joe and Wendy live sustainably off the land and offer workshops on a number of sustainable practices. They will be available to help if help is needed. They also have emergency phone service to the outside world, … emphasis on "emergency".
The Barn has the Otter Suite bedroom upstairs with a bathroom.
HIPCAMP SITES
Our Pumpkin Cottage and our Blue Cottage each sleep 4 people, (or 6 people if 2 don't mind sleeping on the floor and being crowded.) They each have running hot and cold water, a propane cooktop, and a wood stove for heat. If you use our Cottages, we expect campers to have their own sleeping bags. We have beds with mattresses. If you would like to have clean bedding, there is an extra fee for pillows, blankets, sheets and towels for $12.00 per person. Please let us know in advance.
We have also opened our Riverview Yurt for folks who want a full kitchen, a private shower and flush toilet overlooking the Klamath river from the 50 x 50 foot deck. Luscious to sit outside and watch the river flow by during the day, and to let the water lull you to sleep at night. For families (up to 8), old friends, folks who like to fish, or just for a very special get-away.
You can camp in one of our Meadow Camps, or in our Maple River or Grotto River Camps.   We have Romantic Tipi.  We also have our double yellow Shower House up next to the Cottages. It has two separate sides, each with a toilet, sink and shower with on demand hot water. We also have an outdoor Camp Shower for campers!  There is an outhouse at the bottom of the road down to the meadow, for Maple River, Grotto River, Orchard and Morning Meadow Camps.  And another for use by folks at the Romantic Tipi and our Deer Meadow Camp. Feel free to piss outside (with discretion if there are other campers present), for any solid waste, please use the appropriate accommodations. Please be considerate of others.
TIMES Please clean up and check out of your site by 11:am on the day of your departure. You can check in by 1:p on the day of your arrival.
CLIMATE & THE KLAMATH Otter Space is in what many call the "banana belt" of the Humboldt rainforest. Plan on bringing layers of clothing as temperatures can go from hot and warm during the day, to quite cool and even cold after dark. The Klamath River is swift moving (usually about 7 knots, and strong). It runs 286 miles from Klamath Falls, OR to the sea. There are four tributaries: Scott, Shasta, Trinity and Salmon Rivers. Swimming in the summer months is delicious. We have mostly pebbly beaches and a sandy spot upstream near a big rock outcropping that we use for diving. The river is chilly until late June and it cools down again in late September.
NEIGHBORS There are very few neighbors in this area. The Yurok village of Wautek is directly across the river from Otter Space. (Non-native name for Wautek is Johnson's Bar, which used to be a trading post. Ships could get into the mouth of the Klamath and they would send boats upstream to trade with the Yurok for pelts and fish, etc. In the late 1800's silt build up made it impossible for trading vessels to come into the river, so the trading dried up.) We also have a couple of neighbors who live on the property next to our meadow on the other side of our organic fruit orchard, and my brother Rick lives in a trailer just up stream from the Yurt. Please use our pathways to travel property next to us, and respect the privacy and tranquility of our neighbors by not keeping late hours or playing loud music.
COMMUNICATIONS We are in a remote area and do not have easy access to telecommunications systems. Regular cell phones do not work at Otter Space. This is not an inconvenience; it's an opportunity to notice how dependent we have become on our electronic connections! We suggest that you make arrangements to be entirely unreachable while you are in Otter Space, and see if the world can get by without your assistance.
EMERGENCIES If someone needs to reach you in an emergency, they can call 913. 424. 8370. and leave a message. We will check messages at least once a day. This number is a special cel phone and outgoing calls will be made for emergencies only. If you need first aid beyond your own resources, please find Joe or Wendy, as they both have training in alternative medicines and will have some supplies or resources that could help. If you are in any way uncomfortable with their suggestions, please let them know and they will call for outside help without a second request. In extreme situations, we can call Humboldt CHP at 707. 268. 2000. They will dispatch the first available medevac helicopter, who will know which hospital is available; Mad River Hosp./Arcata - St. Joseph's Hosp./Eureka - Sutter Coast Hosp./Crescent City. Sutter Hospital can arrange a fixed wing airplane medevac from one of these sites to other facilities for treatment beyond what is offered locally.
FOOD & WATER Please bring your own food, as the nearest market is an hour away in Orick. Our water was last checked in March, and we got a clean bill of health with regard to everything except the usual "coliform" count. Coliform is present in all the untreated ground water in our area. The Klamath is green because of the blue-green algae and the coliform. This does not mean that drinking it will make you ill. All the local people drink the local water, including Joe & Wendy and their kids and our other neighbors. The officials said it's fine for bathing or cooking, but if you are nervous about drinking the water here, please pack in your own water for drinking. Please keep food and garbage out of the reach and smell of animals so we don't have animal visitors at night.
GARBAGE If you pack it in, please pack it out when you leave.
FIRES Depending on the time of year, cooking fires are permissible in the fire pits provided. Please NO bonfires. Please self-regulate, as we don't want to have to be "parental". Thanks. We have fire wood in the forest around the meadow for use for cooking fires, and there is a "burn pile" full of aged fruit tree trimmings that we've elected to leave for campers to cut up and use for fires. If you forget your saw, cut firewood is available for purchase.
PETS Please leave pets at home.
WILD LIFE On the Klamath River - we might see turkey vultures, golden eagles, bald eagles, merganser ducks, cormorants, King Fishers, Great Blue Heron, night heron, white heron and osprey. Forty years ago there were only 6 osprey nests on the river, due to DDT depleting the calcium in the eggs of the females. Now there are over 325 osprey nest sites on the river. Ospreys are said to be monogamous, and they migrate every year from South America. Each of the little swallows that skin the surface of the river in the morning and early evening eat more than 1000 mosquitoes a day (Yaay!) We occasionally see a harbor seal who comes upriver in the summer to avoid the competition at the mouth of the Klamath. We also have seen a family of river otters that live just downstream, and an occasional river beaver.We have never seen a sturgeon at Otter Space. Sturgeon is a fish that has been the same for 20 million years. The biggest sturgeon caught in the Klamath was in 1936, 12,050pounds, 16 feet long, 300-325 years old. They don't mature until they're 45-48yrs old. A female will lay 700,000 eggs in her lifetime. Only 2 will reach maturity. There is a "sturgeon hole" about 7 miles downstream where they live.
Black bears - If you are lucky, you might get to see one of the timid black bears that live in the Lower Klamath area. They are not aggressive unless it is a mother bear protecting her cubs. They run the other way when they see or smell humans. We do not have any brown bears in this area. There is a cinnamon colored black bear that visits us sometimes. Please do not ever feed wild animals.
We also have silver fox, chipmunks, possums, raccoons, one guest saw a very rare lynx and black-tail deer graze in the meadow in the morning and evening. We do not have poisonous snakes in the area, but sometimes there are garter snakes in the orchard.
Mountain lions - are dangerous. We have never seen one, but they do live in this area. Here are the California Department of Fish and Game's suggestions based on behavior analysis of attacks by mountain lions. Do not hike alone. Make plenty of noise to reduce your chances of surprising a lion. Go in groups, with adults supervising children. Take a sturdy walking stick: you can use it to ward off a lion. Keep children close to you. Observations of captured lions reveal that they seem especially drawn to children. Keep children within your sight at all times.
- Stop! Do not run from a lion. Back away from it slowly, but only if you can do so safely, as running may stimulate a lion's instinct to chase and attack. Face the lion and stand upright. Make eye contact. If you have small children with you, pick them up so they won't panic and run. Although it may seem awkward, pick them up without bending over or turning away from the lion.
- Do not bend or crouch over. Do all you can to appear larger. A person squatting or bending over looks a lot like a four-legged prey animal. Raise your arms. Open your jacket, if you're wearing one. Throw stones, branches, or whatever you can grab without crouching down or turning your back. Wave your arms slowly and speak firmly in a large voice. Never approach a lion, especially one that is feeding or with kittens. Most mountain lions will try to avoid confrontation. Give them a way to escape. Fight back if attacked. Try to stay on your feet if a lion attacks you. Lions have been driven off by prey that fights back. Some hikers have fought back successfully with sticks, caps, jackets, garden tools, and their bare hands.
HIKING We are surrounded by old logging trails made by the lumber companies 80 years ago when they clear cut the old growth redwood on our side of the mountain, and now it's completely reforested with 200 ft. tall Doug Fir, Madrone, Cedar, Oak, other pine species and Pepper wood trees. The property surrounding us is mostly owned by Green Diamond Company that cuts trees for lumber and then re-forests with saplings. There are also other properties that are not clearly marked or fenced in. Mostly everyone we have met here are friendly, and we have never had any problems exploring the trails and creeks in this area, but please use discretion and politeness while hiking. If you see marijuana growing, please DO NOT HELP YOURSELF. It's not wild, and growers do not take kindly to people helping themselves. Even if you get away with it, they may want to "teach us a lesson" at Otter Space. Please respect these wishes.
The Yurok People The Yurok live on the Pacific coast of northwestern California. Many of their villages were either on lagoons or at the mouths of streams; others were along the lower course of the Klamath River. The Yurok placed great emphasis on accumulating wealth and asserting status. The wealthiest members of Yurok society owned multiple sets of dance regalia and served as hosts for ceremonial gatherings. They wore distinctive clothing, such as highly decorative basketry caps, as a means of displaying their wealth. Even their style of speech was more elaborate than the contracted version spoken by commoners.
The natural resources of northwestern California were abundant, permitting the Yurok to live in permanent, year round villages. They harvested salmon, sturgeon, eel, surf fish, shellfish, sea lions, deer, elk, and acorns. Dense redwood forests provided the Yurok with wood for their distinctive split-plank houses, constructed with either single-pitched or double-pitched roofs. Redwood also was used for the manufacture of a variety of household items, such as wooden stools, storage boxes and cooking implements. Using stone adzes and wedges, Yurok craftsmen carved blunt-ended dugout canoes from large redwood logs.
Check in: After 3PM
Check out: Before 11AM
Cancellation policy: Super Strict (30 Days)
On arrival: Go straight to camp
Minimum nights: 1 night
Accepts bookings: 9 months out
Activities
Offered on the Host's property or nearby.
Terrain
Natural features you'll find at Otter Space Romantic Tipi in California.
Beach
Mostly small rocky, ... a few areas of sand. It's river terrain, not ocean beach for sure!
Mountainous
Otter Space has a 5 acre meadow and our campsites are all down in that area. The drive in is more "hilly" than "mountainous", ...Read more
Places to see near Otter Space
14 Reviews
This listing has no reviews yet.
If you stayed here and have some insider info for us,
let us know
!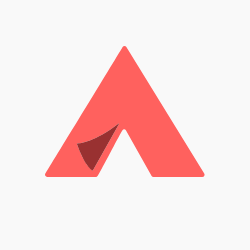 Meaningful, beautiful, wonderful
Max M.
recommends this listing.
Peter has a wonderful property, but the real hosts are Joe and Wendy who live at Otter Space with their family. They were exceptionally pleasant and friendly. Otter Space is truly a remarkable place. The orchard, river, forest, and just general vibe is truly something. I will be back and all that visit will be treated to a world-expanding escape.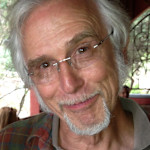 The best vacation destination!
Beautiful natural surroundings!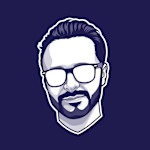 Escape from reality as otter space
Otter Space was an amazing escape from reality. It is full of various activities while not feeling cramped at the same time. The host was incredibly helpful and I couldn't have asked for a better time.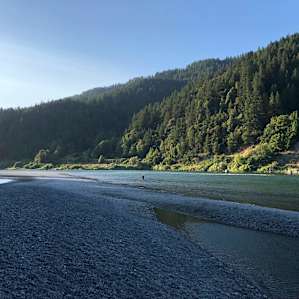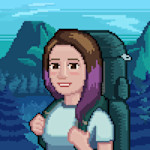 The teepee was absolutely magical within its own little private and forested area. In the past, we've made use of the fire pits in teepees we've stayed at and ended up with so much smoke. Not here! There's a lovely fire pit with a pipe that is directed towards the open portion of the teepee at the top. I recommend printing off the directions and resetting your trip odometer on your car as soon as you turn on the main road where the directions start. If you forget, though, there are mile markers spray painted on trees and they've made lovely signs to keep directing you in the right direction along the dirt road. I wish there was availability for us to stay an extra night so we could really enjoy a full day at the river, but we were encouraged to enjoy it even after we were packed out of the teepee, which we did for a few hours! The hosts were kind enough to even share some of their amazing salmon (caught from the river!) that they roasted themselves. We will definitely be returning for at least two nights next time and when the blackberries are in season to pick and enjoy!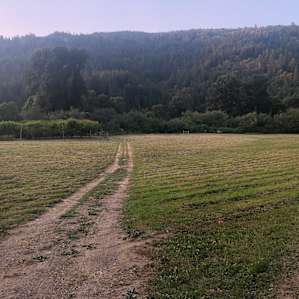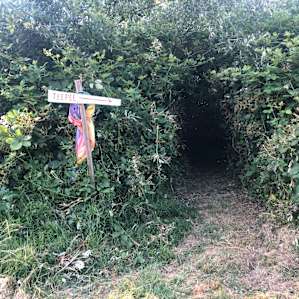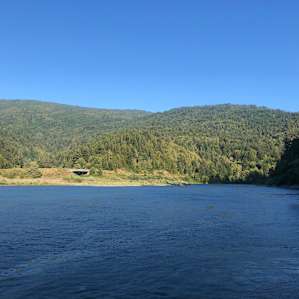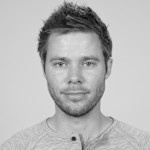 Though a bit far off the highway, this is a little slice of paradise on a calm section of the Klamath River that allows for swimming and fishing nearby. Definitely a great place to spend a couple nights with a lover who appreciates the outdoors. The property has other structures you can rent too, such as a yurt, so it'd be a good place to spend a week with family too.
The teepee was set at the far end of a field behind a hedge in a corn patch, about 40 feet away from a yurt. It was a short 5-minutes walk to the Klamath River, and the water was nice and warm in early August. The fireplace inside the teepee was awesome -- close enough to the bed to keep it warm, but not too hot. Totally cute place, even if a little bare bones.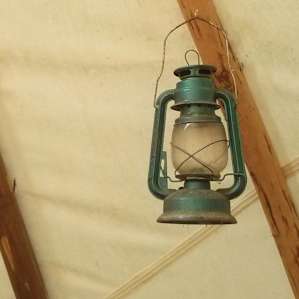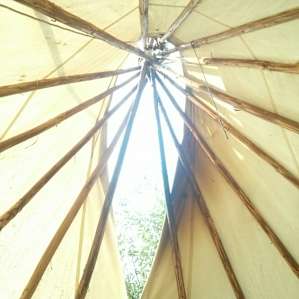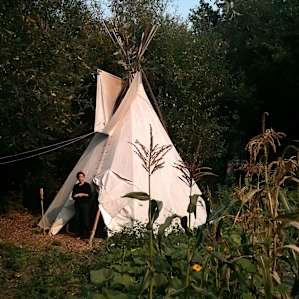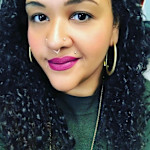 Gihane H.
has mixed feelings towards this listing.
We walked away with such mixed feelings about our stay in the Romantic River Teepee at Otter Space. Let's start with the positives because there were many: This is an absolutely beautiful piece of property. You feel so secluded, because frankly, you are. The Teepee was incredibly unique; a real once in a lifetime sort of experience, and with that we appreciated and enjoyed staying in it. The meadow was stunning and a fantastic place to lay out and stargaze on a clear night. We really enjoyed watching the moon rise over the meadow, and the bats coming out of the forest to feed along with a doe and her two fawns. We also loved picking pluots and bosc pears in the orchard, and were encouraged to pick as many as we liked because the caretakers were not able to keep up on harvesting with all of the other projects going on around the property. Score! The river was beautiful, and though it was too late in the season to swim (algae) we did enjoy a walk down the river bar where we saw, among other things, a river otter and hundreds of baby frogs. Overall it was a very special experience, and we did enjoy it thoroughly.
That beings said, however, we did find some things lacking. Starting with markings on the dirt road to help people find the place; there were several opportunities we saw for landmarks to be listed in directions that could have been very helpful for people once they hit the dirt. It is a long dirt road and some special signage or land markers for hipcampers along the way would be really helpful. When we arrived there was no one to be found (15 minutes before check-in time). We managed after some minor confusion to find our way to the teepee, which we let ourselves in to after waiting around another 15 minutes or so to see if anyone would show up. The bed was folded up and unmade, there was a large plastic bin labeled "bedding" next to it. We unfolded and made the bed, which was okay- but for the price we paid I thought the bedding would at least be on the bed? The other thing we noted right away was the cobwebs, spiders, and other creepy crawlies EVERYWHERE. We knew it would be a "rustic" experience, and are pretty far from squeemy people, but it felt to have just been neglected. A simple brushing off of the inside walls with a broom would have gone a long way. The critters in there had made it their home for some time; all of the funk definitely didn't pop up overnight. Additionally, the wood chip floor was scattered with shards of flint and glass because the property caretaker does flint knapping (super cool!) basically right outside the entrance of the teepee (less cool), so apparently it regularly gets tracked in. This made taking shoes off inside of the teepee impossible, so be advised and prepare with sandals or slippers of some kind. Another thing to note is the difference in how the seclusion of the teepee is portrayed in the listing. Perhaps at one point it was barely visible from the yurt that was directly adjacent, but if that's true, the forest that was there was cleared for a garden which is neglected and directly outside the teepee, separating it from the yurt. There was virtually no privacy between the two sites in that sense, which was a bit disappointing. Also noteworthy, we were pretty dismayed to learn that the bath house was not near the teepee, as suggested, but a good 10 minute walk up the hill. This is fine for trips to the shower, but do not expect to do ANY urgent business there from the teepee, as you will likely not make it, especially in the night. They also do not keep the generator running during the day, so the bathhouse is left without power and quite dark. We stopped on our way out to use it at about 10:30 AM and could barely see, and didn't prepare with flashlights.
After we were at the teepee for a little under an hour the property caretaker arrived and asked if we had seen his wife at the upper house. When we said we had not seen anyone, he told us we had arrived "early" and he didn't think it was ready for us, however by the time we were speaking with him it was almost an hour after check-in time. He let us know they were busily working on building a cabin which had basically left no time to do anything else around the property. Moral of the story, it felt like the caregivers of the property have perhaps a bit too much on their plate to continue to keep the hipcamp sites up to snuff, and run the property while building a home, etc.
All of this considered I would likely still stay here again, but not unless there was a great reduction in price or a great improvement in the facility itself. For nearly $100 we felt that simply keeping the teepee tidy and presentable, and having it ready for guests by the posted check-in isn't a terrible amount to ask. You have to really love spiders to want 20 or more of them lingering over your head and dropping down to say hello throughout the evening and night.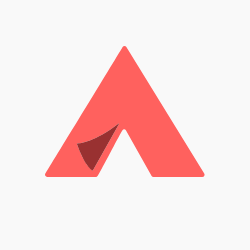 Andrew M.
has mixed feelings towards this listing.
If you're looking for a remote hidden gem, this is the place for you. Camping in a teepee is a one-of-a-kind experience. Loved the unique setting, and the hosts were more than welcoming. A word of warning for those without 4 wheel drive, the last 15 miles of dirt road are a bit treacherous and take about an hour. If you're staying for more than a couple nights, its totally worth it. Clean showers and bathrooms, all the firewood you can chop, and a beautiful beach along the river. We spotted dears grazing in the field on our way back from the bathroom at night.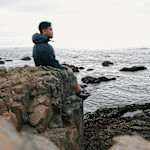 Jay K.
recommends this listing.
I had an incredible stay. Otter Space is truly a hidden gem. I arrived much later than expected in the evening but Peter was kind enough to stay up and greet me. In the morning before he left, he even gave me a tour of the property on his quad! Otter Space isn't the typical stop through camp you would normally find. It's definitely more a destination spot that you would want to spend at least 2 or 3 days at. It's a very tranquil and peaceful environment to relax on and explore. During the summer, the river is dried out so you can walk along the stretch of the river. The water is also excellent to dip into! Also, ask about the waterfalls.
If you're planning to make Otter Space you getaway, I would HIGHLY recommend picking up food supplies before arriving and making sure you have at least a half tank of gas as it is pretty far away from any grocery stores or service stations. I would also recommend that you arrive at least a few hours before sunset as it is pretty hard to navigate through the roads at night to get to the camp.
They also offer workshops/classes (see descriptions) given by Joe and Wendy who also live on the property. Joe was kind enough to demonstrate flint knapping to me (also offered) as well.
Just a couple of notes:
When you're driving down Johnsons Road, be sure to look out for the white painted signs with the road name on it as the road is long and sometimes confusing.
Get your food supplies and gas beforehand. There are no shops or service stations near by.
An overnight trip really isn't enough time here! Plan for a full weekend getaway if possible.
It gets cold at night so bring some warm layers. But it also gets warm during the day, so bring some sunscreen :)
I had a great time and would highly recommend staying here if you're looking for a real tranquil and peaceful getaway. Otter Space is the place.