In the Forest by the River
Nearby: Sequoia National Park, Sequoia National Forest
We are "Pixie's Place Animal Sanctuary & Hospice", a non-profit 501.(c)(3) Trust for the Animals who live here. (PLEASE READ :) I'M SORRY BUT I CANNOT OFFER EXCEPTIONS; THANK YOU FOR UNDERSTANDING)
Greetings Nature Lovers!
We had an amazing 1st season, filled with amazing peeps who all contributed to making us lucky #12 in Cali!
First, I'd like to Thank all
Read more...
We are "Pixie's Place Animal Sanctuary & Hospice", a non-profit 501.(c)(3) Trust for the Animals who live here. (PLEASE READ :) I'M SORRY BUT I CANNOT OFFER EXCEPTIONS; THANK YOU FOR UNDERSTANDING)
Greetings Nature Lovers!
We had an amazing 1st season, filled with amazing peeps who all contributed to making us lucky #12 in Cali!
First, I'd like to Thank all of the Hipcamper's whom have chosen to make us part of their travels and journey! A BIG thank you, for all the love and respect you brought with you here; all the yummies shared with the animals; the many treasures you gifted me, including just with your presence; but most importantly, all the little special touches that you felt compelled to leave behind for your fellow Hipcamper's next to visit!
You've all warmed my heart, and make me proud of what beautiful humans you are!
...and why I ALWAYS say: I HAVE THE BEST HIPCAMPERS!!!!
You guys rock, and big love from me to you! xo
We are so grateful to have visitors who not only care about nature, but also the animals; many who come for that reason…to support the animals at Pixie's Place.
Our goal is to make you as comfortable as possible, so you feel like you're visiting friends/family. This is not a party house, it's not a playground or park. We offer a spiritual communion with animals and nature :)
Energetically speaking, this area is an energy vortex, with Native American Indian spirits tied to the history of the land. The river bed is slabs of quartz and granite, making the river and my property a very healing experience.
UFO's frequently inhabit the pulsating canopy of night sky.
Shamanic Healing sessions are available to book.
Please feel free to message me with questions, or requests :)
(Important for me to know your ETA so that I'm sure to be here to guide you around and introduce you to the animals :)
I look forward to making your experience as special as you are!
shaman Wendi
We are a 420 friendly, artist/writer/shamanic/retreat/hipcamp 
(We also offer a Quantum Healing Shamanic Retreat, which is available to city dwellers through: CrystalSoundQuantumHealing.com.)
We are located at the entrance to Sequoia Nat'l Park/Lake Kaweah, in the village of Three Rivers, CA (Central Cali; between Bakersfield (1 hour and 40 min) and Fresno (1 hour and 10 min.); 30 min up the hill, above Visalia). 3 hours N.E. from L.A.
(IGNORE GPS FROM SO CAL IF IT TELLS YOU TO TAKE THE 5 TO THE 99 TO THE 65. CORRECT DIRECTIONS ARE: 5 TO THE 99 TO 198/VISALIA AND TAKE IT STRAIGHT UP THE HILL PAST THE LAKE. AS YOU ENTER THREE RIVERS, THE 198 BECOMES 198/SIERRA DR. THIS WILL TAKE YOU RIGHT TO OUR STREET JUST AFTER YOU ENTER 3R).
(ANOTHER THING TO NOTE: GPS AND THE INTERNET DO NOT PICTURE MY HOUSE WHEN YOU ENTER MY ADDRESS, IT'LL SHOW YOU THE HOUSE JUST PAST MY HOUSE SO BE AWARE).
In addition to the Shamanic Retreat, we offer this camping spot down in a lower area on the 3/4 of an acre property. The main chalet sits above, with a corral and Sanctuary Reading shed in between. The South Fork of the Kaweah River is at the back of the property with a very "sweet" swimming hole to enjoy as long as the water is flowing down the river as it is seasonal depending on drought conditions. However, mid May-late June it's perfect!
There is bamboo privacy fencing around the 12 x 12 Tee Pee tent for 2, with a queen air mattress/with access to the Chalet toilet. 
I limit the activity here by having only 2 listings; limited to a total of 4 total guests on the property possible between the two listings.
Our second listing: "Vintage Rainbow Garden" 1956 11 ft Aluminum "Rainbow" Trailer available for booking 2 people only (Please check listing for it's offerings).
The property is not kid friendly, and is not really here for "children" as much as it is offered for the inner child in adults. WE ARE 420 friendly which is generally in opposition to most "family" landscapes....so please note this is not personal but I prefer no children xo
Also, I prefer no pets, as it disrupts the balance here with the animal residents :)
If interested, ask me to screen the New Media/Experimental film I made which screened at London at Cinema Magic. The animals of Pixie's Place were actors in the film, along with many of the scenes filmed here.
We set up a projector to screen outside if weather permits :)
Everything works a little bit like a bed and breakfast; a non pretentious environment that supports the animals, self healing; and the enjoyment of sharing this sacred spot I have created.
There is a camping stove & grill available for campers to use, along with Chimineas for a fire (when Fire Bans are not in place). Plenty of wood to harvest on property or the Village Market up the road. Be sure to provide your own propane (Coleman 16 oz camping canister) as there is currently none available up here.
Also, be sure to bring your own drinking water.
Feel free to invest in the vegetable garden; help yourself to any available fruit, as well as the abundant fresh Rosemary & Lavender.
(Be aware that I don't offer public use of my only shower).
We have "Pixie Emelia Aurora" aka "Pea" our mascot; a 10 year old Nubian goat. Siddartha Cloudwalker a Nigerian Dwarf, along with his son, Sage Lyrid Ray, born here on Earth Day 2012! Bowie the 1 year old Buck, along with twin sisters: Vela & Thea....and new rescue goat Casper. We have a family of bunnies, and ducks: Dr. Seuss & Dr. Spock...our Quackers!
There are many cats, who each have their stories of how they found their way to Pixie's Place, including horses: bad boy mustang "Hermes Inyo Ray" , along with new rescue: quarter horse "Lyra". We take on who we can; assuring all creatures a place they can live, be loved and accepted for their "issues" until the cross the rainbow bridge xo
I am an animal communicator, artist and shamanic practitioner: crystal sound healing, and soul coaching (BMI recording artist; SAG member)
Thank you for being a part of this journey!
Wendi Morrison, CCT
Check in: After 3PM
Check out: Before 1PM
Cancellation policy: Strict
On arrival: Meet and greet
Minimum nights: 2 nights
Accepts bookings: 12 months out
Activities
Offered on the Host's property or nearby.
Terrain
Natural features you'll find at In the Forest by the River in California.
Places to see near OrangeRay~Three Rivers
44 Reviews
This listing has no reviews yet.
If you stayed here and have some insider info for us,
let us know
!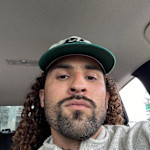 Wendi's home is quite the experience. From openness to clear star struck nights. This is the place to be for your technological detox. We arrived from LA into Three Rivers and were astonished by the animals, the vast options of relaxing spaces on the property. We enjoyed hanging out on the hammock to going down to the river, to watching the stars at night. And yes.. we did see a suspicious object in the sky… 🤭
I would recommend bundling up at night if you're staying in the tent. Make sure to have your butane to cook outside. I would highly recommend if you're looking to get away this is the spot. Wendi is like your aunt, your older cousin, or even your grandmother. She's absolutely welcoming and provides a safe space to her guest.
Optional:
My girlfriend and I partook in a healing session as well which was separate from our stay but was worth exploring especially with the crazy years we recently experienced. I would highly recommend.
This is only one of many adventures and I'm a true fan. Thank you again Wendi.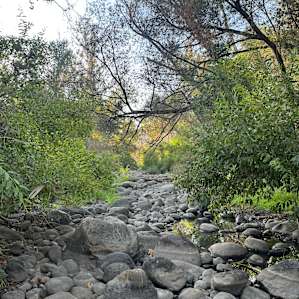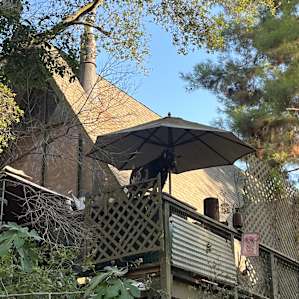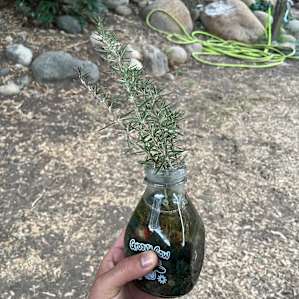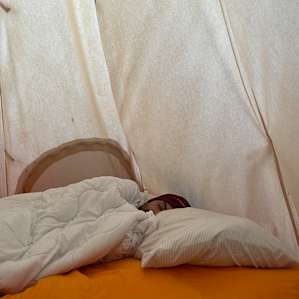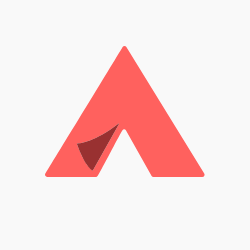 Wendi is so welcoming. Her place is beautiful, the animals she cares for are very special. Loved the tipi. Comfortable bed.
Wendi makes sure you have everything you need. It's a very magical place. Sleeping to the sound of the river...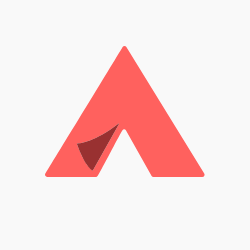 A warm retreat - will be back!
Had a wonderful time at "Pixie's Place". Wendi was a very welcoming and knowledgeable host. Her property was even prettier than the pictures. The accommodations were comfortable. I loved the little cabin retreat/reading nook and the cooking station. And plenty of little curated spots throughout the property to relax and soak in the natural surroundings and listen to the river (which was unfortunately slowing to a trickle in late July). Such great energy there. The pens of goats, cats, ducks, chickens, etc. are a fun element and not at all a nuisance. It was comforting to hear them and interact them during the stay and sweet to watch Wendi take such good care of them. And I saw lots of wild turkeys and deer wandering through the property, too. Three Rivers is adorable with plenty of great food/supply options, and so quick/easy to get into the park. Will definitely come back.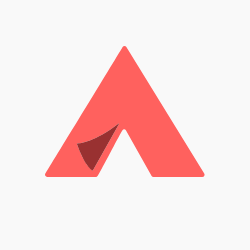 My partner and I are so so grateful that we were able to stay here. Wendi is one of the kindest souls I have come across and I can't wait to return. She was such an attentive host and anticipated all our needs. The place us beautiful, we saw so many shooting stars at night, and the animals are so lovely and welcoming (we spent the night cuddling the cutest cat). Our only regret is not staying longer. If you are fortunate enough to be able to spend some time here, make sure to take a dip in the stream out back.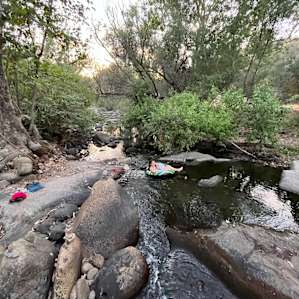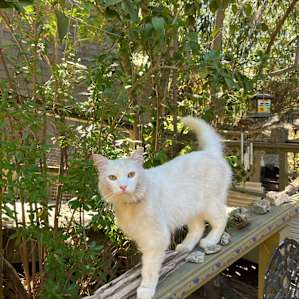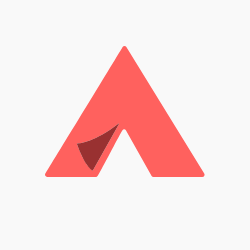 Wendi has a really magical place, and does a great job of making you feel comfortable in the space. The stars and river were quite lovely, and the animals were all very cute too!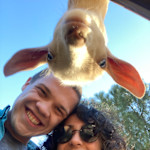 Aishee D.
has mixed feelings towards this listing.
Very lovely place with a lot of attention to detail. We had so many spots on the property which we enjoyed spending time - even if the river was dry! The picnic tables spread throughout and the shed with the library were some of our favorite spots. The animals (cats, goats, turkey vultures in the trees!) were lovely. When arriving, Wendi gave thorough instructions on how to work around her property - doors, showers, etc. However, a few of the amenities were a bit worn out (which we don't mind at all!) and some unfortunately broke on us when using. When asking for further instructions or assistance we were met with some hostility which made it hard to feel welcome. In all, Wendi had a lovely place and it was a great place to rest and relax - but it we felt a bit out of place.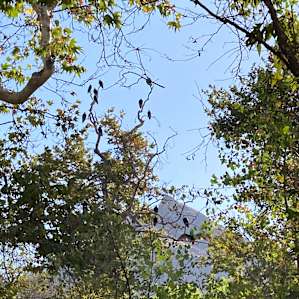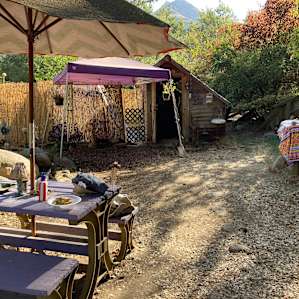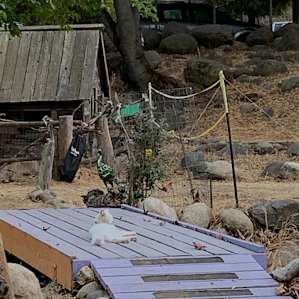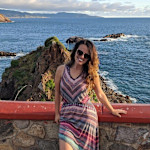 Wendi and her cats were amazing! We woke up at sunrise each morning and went into the Sequoia National Park and it was sooo close and there were no lines. Wendi lets her guests use the bathroom and kitchen in her house and is super welcoming.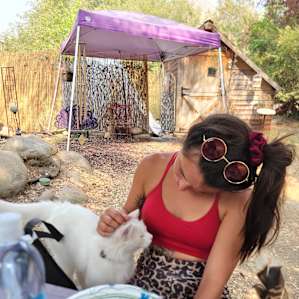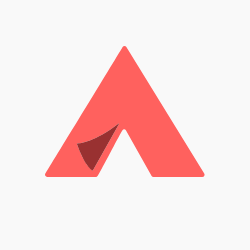 Highly recommend!!! So much thought, heart and soul is put into this place which makes for a lovely visit and experience. Wendi and her furry companions are great company and the grounds are majestic and leave no detail missed. Thank you for such a lovely stay, Wendi!!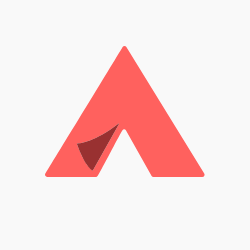 My brother and I had a great weekend at Pixie's Place. Wendi is so kind and is like a mother to all of her guests. The teepee was awesome and super spacious. I loved the little attached library also, my brother actually ended up falling asleep in it one of the nights lol. Perfect distance to the sequoias and feels a lot more private than camping at a public campsite. Would love to return in the Spring sometime to be able to play and relax in Wendi's river.