View 69 photos
Websterbilly Ranch, California
100%
Recommendation based
on
4 responses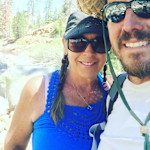 About
Not into the uncomfortableness of tent camping...Try Glamping!!  It is like camping with a twist.  Walk into a cozy Canvas Tent home with a Queen sized bed, couch, Oven and two burner camp stove, coffee maker and coffee included, a fridge and freezer and cooking items. We provide basic cooking items as well as pots and pans, foil, baggies, papertowels, kitchen towels, dish soap, etc. . Sit out front in your bistro chairs and enjoy the beverage of your choice while watching the sun set or the moon rise.  Once it gets dark, enjoy a warm fire and then retire into your cozy tent with Alexa controlled lights and music.  Relax during the day in your velvet Setee whilst reading a book or magazine or just gazing at the beauty that is your view.  We can also provide a queen sized air mattress for the second bed with all linens. Wifi is also inc
Read more...
Not into the uncomfortableness of tent camping...Try Glamping!! It is like camping with a twist. Walk into a cozy Canvas Tent home with a Queen sized bed, couch, Oven and two burner camp stove, coffee maker and coffee included, a fridge and freezer and cooking items. We provide basic cooking items as well as pots and pans, foil, baggies, papertowels, kitchen towels, dish soap, etc. . Sit out front in your bistro chairs and enjoy the beverage of your choice while watching the sun set or the moon rise. Once it gets dark, enjoy a warm fire and then retire into your cozy tent with Alexa controlled lights and music. Relax during the day in your velvet Setee whilst reading a book or magazine or just gazing at the beauty that is your view. We can also provide a queen sized air mattress for the second bed with all linens. Wifi is also included. Equipped with a 1/2 Bath outhouse with a flushing toilet, light, mirror and oversized sink, you can get your business done while looking at the fantastic view. . Also a solar shower for keeping the dust off of you. Heat is based on the suns cooperation. No guarantees. Main suite includes, queen sized bed and two end table dressers with 4 drawers. All linens and some toiletries are provided. Walking trails around property are easily accessible as is the sunset deck to enjoy a beverage of your choice and enjoy the beautiful sunset. Mr. Pigglesworth always loves pets and treats and the peacocks and birds are great to look at and listen to while sitting on the petting corral bench. Play your hand at horse shoes too next to the petting corral. You can take also look at and pet the horses, chickens and play with the cute goats.
Please note that a separate WebsterBilly ranch liability waiver needs to be signed upon arrival. Copy available upon request. Unfortunately Airbnb cannot collect the San Diego Tax through their site so we will bill the 8% tax separately through the resolution center. )
Hmmm we couldn't find any listings within Websterbilly Ranch that match your search criteria. Try removing filters or zooming the map out and searching again.
---
Places to see near Websterbilly Ranch