About Topanga State Park
Hiking through Topanga State Park, you will be shocked at the fact that it exists within the Los Angeles city limits. The park captures the California wilderness in all its glory, with roughly 16,000 acres for visitors to explore. Over 30 miles of snaking trails lead park goers up and down oak covered slopes through meadows onto grandiose canyons that entrap the ecstatic echoes of passerby. Trails take hikers on a journey past 200 ft waterfalls and to a well known overlook at Eagle Rock. While traversing this epic California landscape, you may find yourself pointing out desert cottontails, coyotes, woodpeckers, owls and more. With its proximity to city and faultless location in the Santa Monica Mountains, this park always has been (and always will be) a crowd pleaser.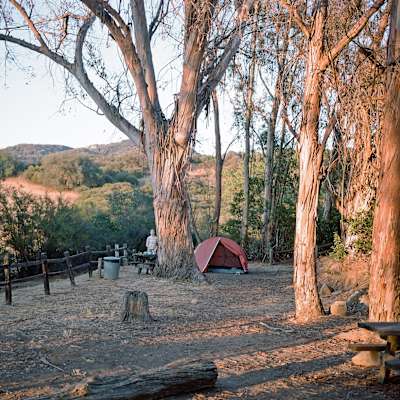 93% Recommend (7 Responses)
Musch trail camp is a small campground located in the eastern part of the mountains of Topanga State Park. This campground is about a mile hike in...
Aja: Visting LA but don't have a friend to crash with and aren't a hotel person? (me neither. showers? who needs them.) Musch Camp...
110 Saves
12 Reviews
No one? Bueller? Sharing is caring, y'all.
Drop some
Topanga
knowledge on us.
Visting LA but don't have a friend to crash with and aren't a hotel person? (me neither. showers? who needs them.) Musch Camp could be your savior.
It is not easy to get there--GPS sends you into a neighborhood with extremely steep, narrow, and windy streets and there is nowhere to park but those steep, narrow, and windy streets if you listen to the robots. DON'T DO IT. Approach from the south, through the actual Topanga State Park, and hike in about 2 miles, where you'll find concrete bathrooms. Hang a right and pitch in one of the 8 sites under the fragrant eucalyptus.
Helpful 5
Helpful 5
Remove vote :(
Yeah, this campground is pretty lame, really. It does have nice amenities, but it's so accessible from Topanga Village, it will be the very off night when you find it a secluded secret gem. Last night we had to share the campground with a group of Japanese millennials who threw a mini-Coachella for themselves all night, complete with oonz music on a stereo, led lights and a full cooler of booze they humped up from the parking lot. They would not call it quits, even after repeated pleas from the other campers. Yes, the bathrooms are nice, yes, the downed tree log furniture is cool, but it's also a scrubby, dust-choked douche-magnet. Caveat emptor.
Helpful 1
Helpful 1
Remove vote :(
But, on a related note, be sure to follow the (rather specific) parameters for parking, as a ticket can put a damper on any excursion.
Helpful 0
Helpful 0
Remove vote :(
A quiet and cozy escape! A hike-in trail leads you to a serene little clearing with running drinking water, bathrooms, and I think even horse tie ups. There are 8 sites surrounded by eucalyptus trees and large oaks (my favorite part of the Malibu woods). Wake up and check out the Eagle Rock (I think it's called?) trail--about a mile and a half. Excellent quick getaway if you're itching to escape the city. And hey, if you don't want to pay for parking, you can find some spots near a different entrance (where google maps will take you). Get there early, there are only about 2 or 3 spots.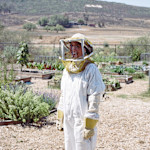 Perfect middle-ground between an off-the-beaten-track camp site and a glampsite!
Great toilet and basin facilities, water taps and near the ranger station (for safety...!). But you gotta hike a bit to get here so can't bring too much stuff. Lovely sunrises and beautiful hikes for the afternoon. Come here to get away from LA for a night. Completely resets you!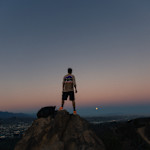 Great spot if you're looking to stay near the city and escape for a night. It's a hike-in only camp so no bro's with car stereos blasting and 30 cases of beer! Very quiet with a great hike and perfect sunset view. If you don't have a car and want a big day adventure you can take the bus to the Getty Villa and hike in! (about 3 hours)
History of Topanga State Park
The word Topanga is an old word coming from the Shoshonean language meaning 'above', in reference to the canyon being located above the flood waters of Topanga Creek. Tongva and Chumash people inhabited this area for thousands of years. Now, the park is located entirely within the Los Angeles city limits and is considered the world's largest wildland within the boundaries of a major city.