About Santa Monica Mountains National Recreation Area
The Santa Monica Mountains take up a huge chunk of the coastline east of Los Angeles, preserving the beauty of the wilderness located only a few miles from the urban sprawl of the big city. If you're in Southern California, you have every reason to come to this National Recreation Area, get away from the light pollution and the congested highways and drink in the mountain coastline.
Campgrounds in Santa Monica Mountains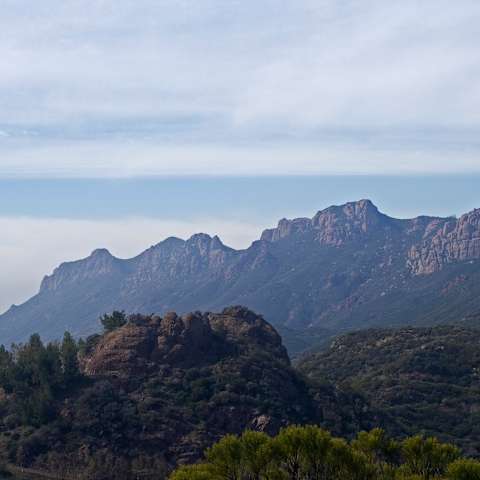 Look over the mountain ranges and lay on the sandy beach at Circle X Ranch, a former Boy Scout camp....
History of Santa Monica Mountains National Recreation Area
Three women, Sue Nelson, Jill Swift, and Margo Fuer organized a grassroots campaign to protect the open spaces in Los Angeles in the 1950s and 60s, creating the four state parks that make up the Santa Monica Mountains in 1978.
The landscape of the Santa Monica Mountains was not just created by geological forces, altered by weather, or covered by vegetation, but shaped by the people who lived and worked here.
Before the strip malls, city lights, and beachfront property the mountains and inland areas were home to the Chumash and Tongva Native American groups. They lived here for thousands of years. Later it was home to Spaniard ranchers who settled the land on behalf of the king of Spain who feared Alta (upper) California would be colonized by Russia and England.
After that, a multi-ethnic group of homesteaders forged their way through the rough canyons when President Lincoln passed the Homestead Act of 1862. These settlers brought new foods, new ideas, and new cultures to the area that has shaped the California landscape and mindset.
Still today, people work, travel, and recreate in the Santa Monica Mountains and call this place their home.
There are places that still remain from our past. Places we can touch and feel. Paramount Ranch, Solstice Canyon, and Rancho Sierra Vista / Satwiwa are all places that you can visit. Places that most importantly create an emotional and intellectual connection to our past.
As a park, we look deep into the past through archeology and historical research, investigating what people left behind. Into their past and the collections that tell the day-to-day story of their lives. From photographs to letters to even the things they threw away; everything tells a part of the story we share.
Santa Monica Mountains National Recreation Area strives to ensure the preservation of these collections, places, and stories of the people who impacted the landscape forever.