About San Clemente State Beach
San Clemente is one of those magical places that exist just outside of a city (in this case, two) but can make you feel worlds away from the insanity and rush of a million people trying to get everywhere. Instead,this beautiful beach makes you want to go exactly one place, and, if you are sitting in the sand, you've already arrived. Situated in between LA and San Diego, San Clemente State Beach is one of the most popular spots in SoCal, as you can imagine. Sweeping ocean bluffs carved out of California sandstone give way to the sparkling blue waters of the Pacific, which crashes warm and tame on the state parks lovely, mile-long expanse of shoreline. Beginning surfers can get their sea legs along this gentle stretch of beach, and, of course, the water is perfect for anyone who is looking for the iconic California experience. If you want to take a break from the salt and sun, check out some of the great hiking trails, which offer up some truly incredible views of the impossible horizon. The best part? You can absolutely fall asleep and wake-up to the sound of waves. Sigh. We wish they all could be California beaches.
Campgrounds in San Clemente
10 Reviews
No one? Bueller? Sharing is caring, y'all.
Drop some
San Clemente
knowledge on us.
If you don't mind a little chill, you can get away with using the campground's outside showers for free!
Remove vote :(
There is a paved shortcut (no stairs) to get back to the campground from the beach, just be prepared to huff it up a hill and feel the burn (in the best way, of course).
Remove vote :(
Nearby Surfin' Donuts is worth a trip. If we're honest, it's probably worth two trips.
Remove vote :(
There do tend to be some skunks at this campground. Stay aware and bring some good smelling spray...just in case.
Remove vote :(
If you forgot something, Ralph's down the road may have what you're missing!
Remove vote :(
Be sure and bring ear plugs, the Amtrak blast through about 3am and is extremely loud, outdoor showers, fairly clean bathrooms. All around a good experience.
Remove vote :(
Camping here is more for great beach access, not a great camping experience. Tons of campsites with plenty of inexperienced/unaware/careless campers. Lots of families, animals, and RVs.
Good for family camping... not good for 'real' camping.
Remove vote :(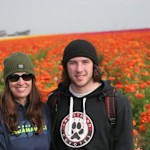 Camping on the Bluffs is parking next to the beach, on the road. If you get away from the beach, the campground is surrounded by hills and trees with a walk to the beach.
I live in socal otherwise I'd probably be more impressed. The vintage Holidays trailers are a great experience!
History of San Clemente State Beach
San Clemente State Beach was a matching fund gift in 1931 from the H.H. Cotton Company, developer of the nearby city of San Clemente. Ole Hansen, the first project manager for San Clemente, is credited with developing the park, envisioning it as the new seaside community's outdoor amenity. The elegant Spanish Colonial style Hansen chose for the town—adobe and frame stucco with tile roofs—extends to the park's buildings and structures. The Custodian's Cottage complex, now a visitor center, is a prime example. The Civilian Conservation Corps
(CCC) built the park between 1934 and 1937. Their trademark rockwork is evident throughout the park, on picnic tables, and in gutters