About Refugio State Beach
If you're looking to sleep to the sound of surf and swaying palm trees on a pristine stretch of the Central California coastline, Refugio State Beach is not to be missed. Refugio State Beach camping offers the whole nine yards for ocean lovers, from surf fishing and kayaking to hiking and biking. With lifeguards patrolling the beach throughout the year, lifeguard towers staffed during the summer months, and beach wheelchairs available free of cost, Refugio State Beach is a great place for a family outing. To experience the beauty of the coastline, set off from your beach campsite for an adventure on a beautiful set of trails to visit Refugio's stunning neighbor, El Capitán State Beach. Or, for a close-up look at the coast from a different angle, sign up for a kayak tour led by one of the park's lifeguards.


Choose among 66 campsites at Refugio State Beach's Refugio Campground, just twenty miles west of Santa Barbara. Refugio Campground is lined with tropical palm trees and offers amenities such as fire rings, picnic tables, restrooms, pay showers and a small general store. Refugio State Beach camping is close the highway, but a symphony of crashing waves will often lull you to sleep over the sound of passing cars.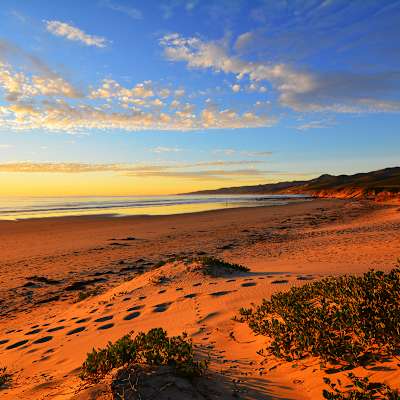 91% Recommend (11 Campers)
If the idea of falling asleep in a tent to the sound of surf and swaying palm trees sounds idyllic, add Refugio State Beach camping to your travel...
49 Saves
8 Reviews
No one? Bueller? Sharing is caring, y'all.
Drop some
Refugio
knowledge on us.
History of Refugio State Beach
There is little information available on the history of Refugio State Beach. However, with a little digging and some help from Google, you can find some information about the area's past .