Wild Redwood Waterfall @ Rancho Rio
Nearby: Butano State Park (3mi), Big Basin Redwoods State Park (3mi),
Super quiet and private 10 acres of private redwoods, and a waterfall with the ocean and Santa Cruz mountains a short hike away! Glamping or camping opportunities, great for a quiet romantic getaway or a group of friends and family. Sleep in a modern, warm "tiny house" studio constructed from a shipping container (2-3 people) or set up your own tents throughout the property.
Read more...
Super quiet and private 10 acres of private redwoods, and a waterfall with the ocean and Santa Cruz mountains a short hike away!  Glamping or camping opportunities, great for a quiet romantic getaway or a group of friends and family. Sleep in a modern, warm "tiny house" studio constructed from a shipping container (2-3 people) or set up your own tents throughout the property.  Rustic cabin with electricity, sink, and flushing toilet. Close proximity to excellent hiking (skyline to the sea / big basin state park), and a few miles away from some of California's most beautiful beaches and some of the best surfing and kitesurfing between San Francisco and Santa Cruz.   Also a short drive away from Costanoa resort and Highway 1 Brewing restaurants.
** 3 different sites ** are available to accommodate separate small groups but the property is ideal for single private groups…  ** Site 1 (the container studio) is fantastic to sleep in, insulated and warm, and feels like a modern studio without electricity (for now).  ** Site 2 (bring your own tents) are recommended for the more outdoorsy, or rest of a larger group.  ** Site 3 is for a small group willing to tent camp, hammock-tent camp, or car/van camp further away from the main cabin + container studio area.  The *rustic* cabin is unfurnished and isn't intended for sleeping (mostly there for the bathroom and as a storage area), but is possible to use for sleeping in case of unexpected weather.
* We've been giving priority to first bookings choosing between using the container or tents, or you can reserve the entire property to keep it completely private.  When sites are booked separately: A) we've been optimizing for small groups so the space remains intimate, B) shared facilities become the bathroom in the rustic cabin, and central fire pit in a courtyard area near the cabin.  
* A couple items of camping gear are available onsite for use by extra guests at any of the sites: 1 x 4 person dome tent, and  2 x 1 person hammock tents (with mosquito nets). 
* There's plenty of space elsewhere on the property to spread out, and its still a work in progress so we really appreciate ideas/suggestions regarding other site locations that would work well + other potential improvements to the facilities.
Let us know if you have other questions, and hope you can visit sometime!
Check in: After 12PM
Check out: Before 12PM
Cancellation policy: Strict
On arrival: Go straight to camp
Minimum nights: 1 night
Accepts bookings: 12 months out
Weeknight discount: 20% off
Response time: Within an hour
Response rate: 100%
Activities
Offered on the Host's property or nearby.
Terrain
Natural features you'll find at Wild Redwood Waterfall @ Rancho Rio in California.
Places to see near Rancho Rio Waterfall & Redwoods
38 Written reviews
This listing has no reviews yet.
If you stayed here and have some insider info for us,
let us know
!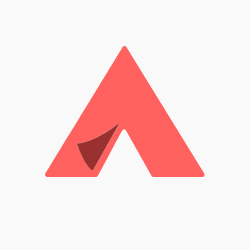 Dara K.
recommends this listing.
(Dispersed site)
We loved our stay at Rancho Rio!!! It was the perfect weekend getaway - beautiful, quiet and close to the beach. Luis was a great host, very responsive. The shipping container tiny house was immaculate and the air mattress was very comfy. I want to come back soon!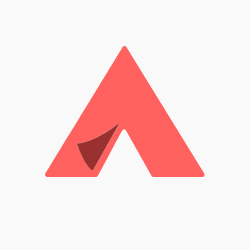 This was a cool property to camp out on. There are neighbors relatively close by but you still have a lot of privacy with basic amenities that were great. owner was super friend and very informative. would recommend for a low key getaway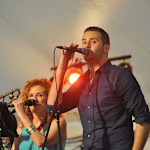 Mark W.
recommends this listing.
(Dispersed site)
Love my stay!
This spot really is out in the wilderness, but has enough amenities for an extended camping stay. I grew up camping on the east coast where forests are noisy (birds/bugs/cicadas/etc). This was my first foray into the redwoods and it was beautifully quiet and peaceful. Even in the height of summer when the waterfall flow was low it was still beautiful to hike around. The place is rugged, but has running water and electricity, and the storage unit apartment is pretty cool (I opted to stay in my tent by the fire ring, but I only stayed 1 evening).
Go grocery shopping in Pescadero or similar beforehand, as that portion of 1 is mostly just open fields and ocean views, although there is a small general store in a glamp-ground up Rt. 1 a bit.
Make sure you have images of the directions when you go off of Route 1 (my phone GPS followed the whole way, but cell service goes away quickly). Be prepared for a rumble strip style drive if you do not have an SUV / truck, as it is a 2 mile gravel road through the woods. The property's driveway turns into more of a dirt/root road that is a little bumpy in spots but overall the trip off of Rt. 1 is pretty flat and travelable by a Sedan. I drove my 3-Dr Hyundai Veloster down it at 5-10 mph and eventually made it, so your car will probably be fine in a dry season. Have good tires!
If you're looking to get away in a unique location that's fun to explore, this is the spot for you.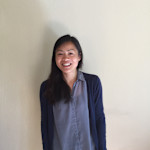 Beautiful redwoods all to yourself! Definitely a perfect stop if you're traveling down the 1. Since it was late summer when we came, the waterfall was a bit dry, but I bet in the spring, it's really awesome! It truly is right there, a backdrop to your campfire and redwood surroundings.
The place is a couple of miles in from the highway on a mostly dirt road, and the last stretch can be tricky if you don't have high clearance, but we were totally fine with regular passenger cars and going slowly (would recommend arriving in the daytime to be safe!). It's so convenient to get to any of the parks or beaches between Pescadero and Davenport! We grabbed groceries in the city, which you might want to do before heading there and settling in. It's a ways to a bigger store in either direction, if you're going to prep anything more than basics.
The shipping container studio is simple but clean, with just an air mattress. There's space to pitch tents or for camper vans to park. I was kind of expecting more level, open space to spread out, but it really is mostly forested, and the neighbors were closer than I thought they would be. We could see/hear them walking in and out of the cabin on the next property over, though we weren't bothered by them and vice versa. One neighbor's dogs were barking the whole time, though again, far enough away that it wasn't a big issue. It does feel very private! It's backed up against the ridge, and we explored the trails on the grounds a bit. The trees really are amazing; it's so rare to have all of those redwoods to yourself and not be smushed into a crowded campsite in the park just on the other side of the ridge.
The other structures on the property (old cabins, storage sheds, etc) can be a little creepy to explore, especially if it's dark — there's a lot of things just exposed and lying around in them, so be careful if you're bringing young kids. As Luis mentions in the listing, they're not for sleeping in or really hanging out in at all, more for storage, and access to the toilet/sink.
Luis generously provided camp chairs and a table we used to prep food on by the gigantic firepit. Just a heads up that the firepit doesn't have a level grate to it, if you're planning to cook on it.
Luis himself was a wonderful host! We never met him but he was attentive and thorough in giving directions, instructions, and advice beforehand. This is a new listing and you can tell that he's really looking to improve on it and make it even better for future campers. It's a sweet spot in a fantastic location, perfect for a relaxing getaway! Thanks Luis!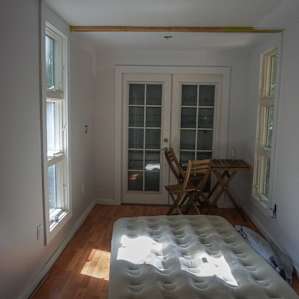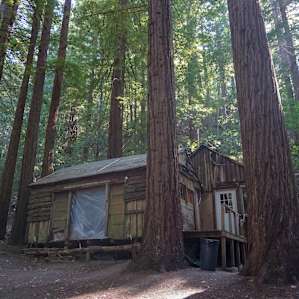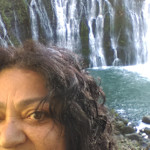 Robbie C.
recommends this listing.
(Dispersed site)
Wild Waterfall is a beautiful drive along the coast and you end up at an enchanting redwood forest with half bath in cabin and newly constructed tiny house with french doors and ample space for 2 people!!!
Tali S.
recommends this listing.
(Dispersed site)
Luis' spot is a beautiful, private area nestled in the Redwoods on a mountain. Our first thoughts driving up were just how wonderfully isolated we were, and how unusual it is to be able to experience the California Redwood forests on your own. The shipping container is as described - small, but clean and modern, and it's useful to have the battery-powered lamps that he does. Just be sure to bring your own bedding if you plan to use the air mattress. As he says in the posting - no electricity in the outlets yet! There is a small fire pit in the driveway that can be used, although some instruction about the availability of wood would be nice. The rustic cabin is a little dingier than it looks in some of the photos, and the flushing toilet is behind a shower curtain - definitely be sure to arrive before dark so that you can find and turn on the lamps inside and familiarize yourself with the set-up. Overall, as long as you're okay with a little disrepair in the bathroom cabin, this is a gorgeous spot to stay, especially if you like the solidity of having some walls around you in the forest!
Adrina P.
recommends this listing.
(Dispersed site)
We had a wonderful experience with this Hipcamp venue. The tiny house shipping container was clean and welcoming. We parked my Honda Element close to the tiny house, so my friend and I were able to have our own sleeping accommodations. The added fire ring in our campsite was a HUGE bonus because it was close to the shipping container. My dog was a happy camper too. We met Luis and he was delightful. The campers that showed up the next day were really friendly as well. While we were chatty with each other, we all respected the other ones camping experience.
I will be back again for sure. This being my very first Hipcamp experience, I'm hoping they all live up to this location and host reputations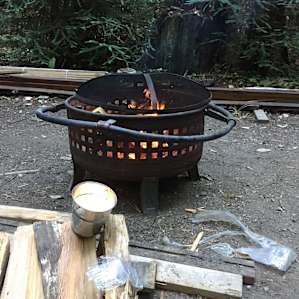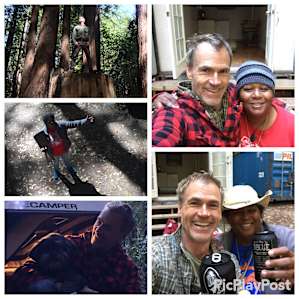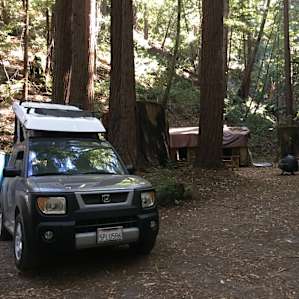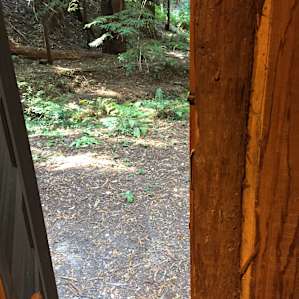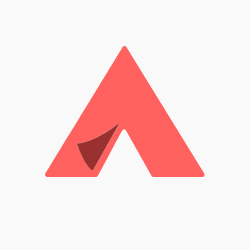 This is an absolutely lovely, secluded property quite near state land. A small group of us went down from Berkeley last Friday afternoon through Sunday, and made it there in about 2 hours with a little traffic in SF. We had such a blast and will be down again as soon as we can.
Luis is a gracious host and good communicator, who kept me in the loop in the leadup to our stay and gave great directions. He also kept me posted about whether or not other folks would be staying there at the same time as us (they weren't; we had the place to ourselves). We found easy level sites for several tents and appreciated having the use of a flush toilet inside the old cabin onsite. There's also a cool little shipping container unit with counter space and a blow-up mattress--we didn't sleep in it, but it was nice to have a little area to store food and a counter to prep on. Had it been cold or rainy, that would have been a nice spot to have dinner in.
For a day hike, we made our way down to Big Basin and did a nice 3-mile loop, then had a picnic on Waddell Beach across Highway 1.
There is a neighboring property on one side (mountains and I believe Big Basin on the other), but it was maybe 150 yards away past some (huge!) redwoods. In any case, the other home was not so close we felt like we were in danger of bothering them, or them us. The firepit is situated behind Luis's cabin, so you can't even see the other house unless you walked over to it. Even just walking around to the other side of the structure, I couldn't hear any chatter from the people at the campfire, and from there it's another couple hundred feet to the nearest neighbor. Bottom line, Luis's property is near the end of a dirt road with parkland all around--it feels quite remote and special, and if you've been to any of the car camping spots in this area, you'll be delighted by how much space and seclusion you have at Rancho Rio. It's really peaceful and downright beautiful land.
We came in October, just at the end of the dry season, and while the waterfall had slowed to a trickle, there was still running water that we used for washing our dishes and (after filtering) drinking. If there's no rain for the next couple months, I suppose it's possible the flow would stop, but you could probably check with Luis about that. Frankly, I was surprised that there was any running water at all this late in the year, given that it's been about 6 months since we last had rain! I want to see the fall in the wet months, though--it's a really cool little nook right in the corner of his property.
Do heed Luis's directions to download your maps/his directions in advance: it's a straight shot off the highway, but those last 4 miles take about 20 minutes because it's a narrow, bumpy road. I'd advice a car with higher clearance, though one of our cars was a low-riding sedan and they made it in without bottoming out once (you just have to go about 8 MPH and be mindful of rocks).
I'll be back to this lovely little corner of the woods as soon as possible, and--at the risk of making it harder for myself to book a weekend there--I suggest you do the same!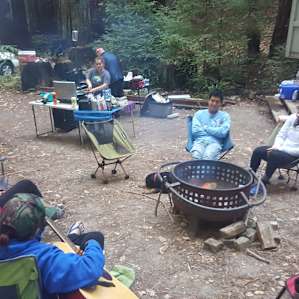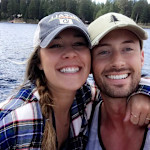 Jake W.
recommends this listing.
(Dispersed site)
My friend and I just got back from Rancho Rio and could not have been happier with how our trip went! Luis was a great host - very welcoming and responsive to our questions leading up to our trip. The site was beautiful and peaceful. We liked that there is an option to book the super cool converted storage container nearby as well, because next time we can also bring our friends who are less outdoorsy :). We'll definitely be back!