About Pfeiffer Big Sur State Park
With its towering redwoods, vast ocean views and rugged charm, it's no wonder that this park has been nicknamed "little Yosemite." Nestled in the Santa Lucia mountains, Pfieffer Big Sur also features a plethora of animal life, ranging from black-tail deer to water ouzels. Hikers can enjoy the scenic trails or a self-guided nature trail.
Campgrounds in Pfeiffer Big Sur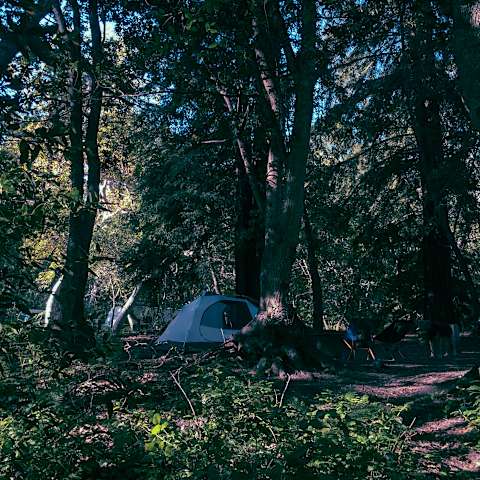 Nate: We stayed at campsite 177 based on Sarah's recommendation and loved it. Right on the river, and within...
40 Reviews
No one? Bueller? Sharing is caring, y'all.
Drop some
Pfeiffer Big Sur
knowledge on us.
History of Pfeiffer Big Sur State Park
Early archaeological evidence of the Esselen and Rumsien (also known as Costanoan) presence on the Central Coast dates back about 8,000 years. Though physical remnants of these prehistoric Native Americans have not been well documented, a few items discovered in the area - projectile points, bedrock mortars and various shells - have been attributed to them. Esselen and Rumsien people still live in the Big Sur area, where they honor and practice the traditions of their ancestors.

In 1834, Governor José Figueroa granted acreage to Juan Bautista Alvarado. Alvarado's El Sur Rancho stretched from the River Chiquito del Sur (in today's Carmel Valley) to below the Big Sur River.

Mexico ceded California to the U.S. in 1848, at the end of the Mexican-American War. Beginning around 1862, the area was settled by people whose names—Pfeiffer, Partington, Post, Gamboa—are still found on local street signs and businesses.

The park's Manuel Peak was named for a member of the Chumash tribe, Immanuel Innocente, head cattle wrangler at El Sur Rancho. In 1868, Innocente moved his family north from San Buenaventura to the Big Sur area. That year they bought property along the river in what is now the park.

Michael and Barbara Pfeiffer arrived here in 1869, settling at the mouth of Sycamore Canyon to ranch, farm and keep bees. Their son, John, lived along the Big Sur River, near the site of the Homestead cabin.

In the early 20th century, a developer offered to buy some of John Pfeiffer's land, planning to build a subdivision. Pfeiffer refused. Instead, he sold 680 acres—which became the nucleus of today's park—to the State of California in 1933.

The Great Depression was in full force in the early 1930s. One of President Franklin D. Roosevelt's first official acts was to create the Civilian Conservation Corps (CCC). The CCC employed young men to develop recreational areas and conserve natural resources. From 1933 to 1942, nearly 2.5 million CCC corpsmen built roads, trails and structures in more than 800 state and federal parks and planted nearly three billion trees.

The men here at CCC Camp S.P. 12 built campgrounds, buildings, fences, a footbridge and trails in this park. Their wood and stone "park rustic" style used redwood lumber and river rocks as building materials. Between construction jobs, they tackled fires and problematic poison oak.