About New Brighton State Beach
Imagine water curved like the body of a bell around a sandy shore. Imagine strong Pacific currents transforming into a subtle shimmy as they sample land. Head to New Brighton State Beach and then open your eyes - you can stop imagining. This waterside haven that borders the mist veiled magic of a Monterey pine forest - is the real deal. Just South of Santa Cruz, the 93-acre splendor of New Brighton State Beach features glorious views of Monterey Bay and a family-friendly campground that enjoys its queenly viewpoint atop a beautifully imposing bluff. Barefoot beach walks, coastal tree hugging, swimming, kayaking, paddle-boarding and bay-view picnics await both the solo camper and the family reunion caravan, at this state beach treasure.
Campgrounds in New Brighton
98% Recommend (25 Responses)
New Brighton State Beach campground is off use to day visitors, so make use of its many splendors and stay the night! The location is...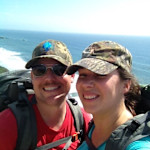 Courtney: This campground sits right above a great beach for launching a kayak or paddleboard. Some of the sites are kind of wide open...
102 Saves
22 Reviews
No one? Bueller? Sharing is caring, y'all.
Drop some
New Brighton
knowledge on us.
History of New Brighton State Beach
New Brighton, once known as China Beach, was the site of a Chinese fishing village during the 1870s and 1880s. The village inhabitants were invaluable during the building of the California railroad, and provided Santa Cruz with fish and produce among other things.
New settlers took the village over, but commercial fishing slowed after dragnet fishing was outlawed in 1915 and New Brighton became a state beach in 1933. Ohlone Indians, however, proceeded everyone, thriving for thousands of years on the areas natural resources until Spanish colonization. The riches of the oceans, rivers and forests provided plentiful sources of food, from fish, shellfish and game to edible plants and seeds. The Ohlone were creative craftspeople known for ornate shell and feather adornments.
Much as a reef does, the SS Palo Alto attracts an immense variety of marine life within its concrete wreckage, and many of the same animals found on rocky shores live on its concrete sides. Mussels, barnacles, sea stars, sea anemones, ocean worms and rock crabs all cling to the sides and insides of the ship and pier. Anglers catch sole, flounder, mackerel, halibut, lingcod, cabezon, jacksmelt and perch to name just some of the finned bounty.