About McConnell State Recreation Area
Let us paint you a picture: It's 90 degrees and you're sweating. You desperately need to cool off but you're too far away from the beach. Where can you go to escape the sweltering dry heat of the Central Valley? Well folks, sweat not! We have your answer right here: McConnell State Recreation Area. A shaded campground with a wooded hiking trail right alongside the Merced River, McConnell will shield you from the sun and let you chill out in a friendly, flowing river. Bring a canoe or floating tube. Bring your fishing poles. Stock your cooler full of tasty treats and cook 'em up on the provided hibachi grills. McConnell is the perfect oasis for river hang out time. So head out there, cool off, and chill out. Really, we're concerned about you.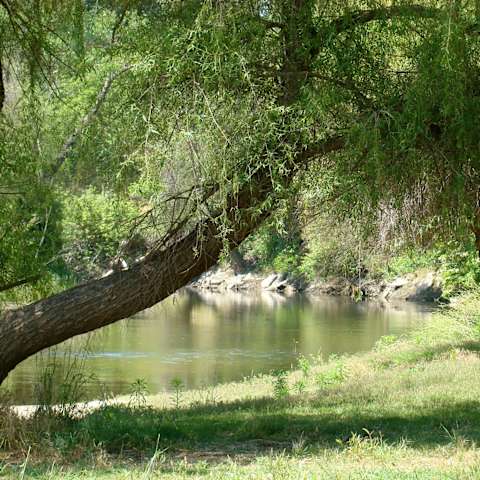 The McConnell campground offers 21 family sites situated comfortably in the shade of sycamore and...
5 Reviews
No one? Bueller? Sharing is caring, y'all.
Drop some
McConnell
knowledge on us.
If you go swimming, you might come across some deep holes in the river. So be cautious and don't, you know, try to run along the bottom of the river or anything like that (in case that was your plan).
Remove vote :(
In the summer it can be as hot as 105 degrees, but throughout the year, weather can be kind of erratic. Layered clothing is usually good to have.
Remove vote :(
Bring lots of food if you're planning to stay for a while; there aren't any super close stores.
Remove vote :(
Reserve a campsite, especially if you're visiting on the weekend in spring or summer, or try to get there early.
Remove vote :(
Bringing a floaty or tube? Check out the floating distance between certain points at the end of this brochure so you don't accidentally find yourself too far down river.
Remove vote :(
History of McConnell State Recreation Area
The earliest residents of what is now McConnell State Recreation Area were the Northern Valley Yokuts, who lived in small groups in an extensive area between the Coast Range and the Sierra Nevada. The Yokuts, known for their artistry in creating both coiled and twined basketry, depended on hunting and gathering for their needs. Salmon fishing, acorn harvesting and deer hunting provided a rich, stable food supply. When Europeans arrived, they discovered a native people willing to defend their lands and their way of life. About four miles upstream of the park, a Yokut village site provides evidence of their presence.
McConnell State Recreation Area is a shady oasis, a small island of peace and quiet. Named after Thomas McConnell, a sheep rancher and pioneer who homesteaded the site in 1871, it offers year-round recreation. As the first state park in the San Joaquin Valley, this 74-acre recreation area opened in 1950.