About McArthur-Burney Falls Memorial State Park
Most water enthusiasts have a preference for a specific aquatic entity. The strong call of a cresting wave or the story of a green river winding. Even if waterfalls have never made it to the top of your water-body list, you might be willing to leave all others behind when you see this one. Burney Falls is neither the biggest nor widest waterfall (although its 129-foot drop is nothing to scoff at), but there's something other worldly about the streams of tiered water, as delicate as lace, that texture mossy patterns over the soft face of stone. Burney Falls is just one of the highlights awaiting you at McArthur-Burney Falls Memorial State Park, an 875-acre wonderland, rich with wildlife, hardwood and conifer dominated trails and the kayaking, swimming, canoeing, stand-up paddle boarding, windsurfing smorgasbord to be feasted upon at Lake Britton. Detour there or back and explore the
volcanic legacy scenic byway
, for a new appreciation of land's changing face. In the winter, get rustic with a cabin retreat and marvel at the chiseled ice masterpiece of a frozen waterfall. Before you savor McArthur's magic, don't just take my word for it - check out a
video
that will get you packing for your next state park destination.
Campgrounds in McArthur-Burney Falls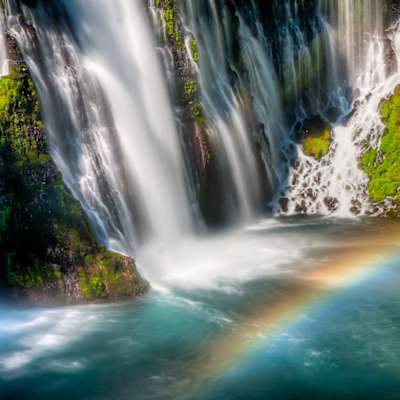 Rim Camp is located right between Lake Britton to the north and the majestic Burney Falls. Camping so close to a waterfall (that was considered by...
Angela: Expensive camping but very handy for short trips. Nice trails surround the area.
19 Saves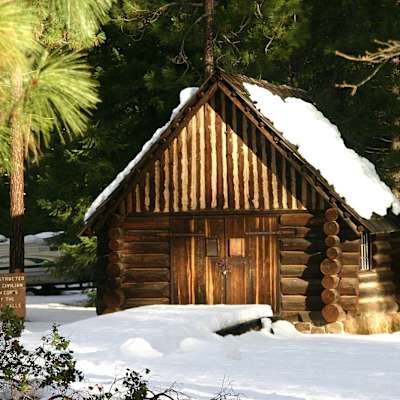 These insulated cabins are rustic and charming while being amazingly comfortable and convenient. There's plenty of space on the porch, and you can...
15 Saves
History of McArthur-Burney Falls Memorial State Park
The park is within the Cascade Range and Modoc Plateau natural region, with forest and five miles of streamside and lake shoreline, including a portion of Lake Britton.
Burney Creek originates from the park's underground springs and flows to Lake Britton, getting larger along the way to the majestic falls.
The park's landscape was created by volcanic activity as well as erosion from weather and streams. This volcanic region is surrounded by mountain peaks and is covered by black volcanic rock, or basalt. Created over a million years ago, the layered, porous basalt retains rainwater and snow melt, which forms a large underground reservoir.
Within the park, the water emerges as springs at and above Burney Falls, where it flows at 100 million gallons every day.
Burney Falls was named after pioneer settler Samuel Burney who lived in the area in the 1850s. The McArthurs were pioneer settlers who arrived in the late 1800s. Descendants were responsible for saving the waterfall and nearby land from development. They bought the property and gave it to the state as a gift in the 1920s.