About Limekiln State Park
Along the spectacular Big Sur coast lies Limekiln State Park. As you can imagine, here you can get epic views of the Big Sur Coast as well as the grandeur of the redwoods. Although the park is small, this rugged coastal park offers up a beach, a redwood forest and 100-foot waterfall and is rich in historical significance. Sometimes big things come in small packages!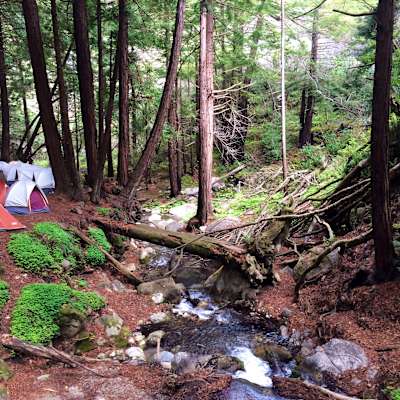 98% Recommend (33 Responses)
This coastal campground has two main loops: one that winds along the redwoods along Limekiln Creek, and one that perches on cliffs overlooking the...
David: The area is beautiful. My review is specific to the camping context. Looking at the photos, the sites look amazing, but...
219 Saves
History of Limekiln State Park
Archaeological evidence suggests that the ancestors of today's Salinan, Esselen and Ohlone people inhabited the Big Sur coast for thousands of years, adapting their lifeways to the area's climatic and environmental changes. Native groups traveled from the coast to the interior valleys, following the marine and terrestrial resources that sustained them. They gathered fish, shellfish and various grasses and seeds, and hunted small and large game and birds. They traded with other groups for items they could not produce themselves.

The incursion of the Spanish, Mexicans and Americans brought changes that drastically affected the lives of the people. Taken into the mission system, the people struggled with diseases to which they had no immunity. Pestilence, violence and broken promises all took their toll; seemingly well-intentioned treaties with the Indians were not sent to federal offices for ratification. Within a few generations, the native people's traditional lands had been taken over by the settlers.

At the end of the mission era, some of the native people were employed in agriculture, fishing
and other industries. Today, descendants of the Salinan, Esselen and Ohlone people are working to revive their cultural traditions and to pass them on to the next generations.

Beginning in 1887, the Rockland Lime and Lumber Company extracted, processed and exported thousands of barrels of lime from Limekiln Canyon. Four stone and iron furnaces were built at the base of a large talus slope eroding from a limestone deposit. Limestone rocks were loaded into the kilns, where very hot wood fires burned for long periods to purify the lime.

The lime was packed into barrels, hauled by wagon to Rockland Landing on the coast, and loaded onto ships that carried it to northern ports for use in concrete.

After only three years, the limestone deposit was all but depleted, as was the redwood forest that had been nearly clear-cut to use for lumber and fuel.

Today the four kilns, some stone walls and bridge abutments are the only remains of the thriving lime industry that existed here.