About Hendy Woods State Park
About 20 miles from the coast, in the Anderson Valley lies this pristine 816 acre park. Because it is further inland, it is warmer than most of California's coastal redwood forests. Here you will see old-growth coastal redwoods at their best - some trees are over 300 feet tall and nearly 1000 years old! Whether you're in for swimming, boating, or simply hiking through the redwoods, there is something for everyone (not too mention wine tasting at one of the many nearby wineries)!
Campgrounds in Hendy Woods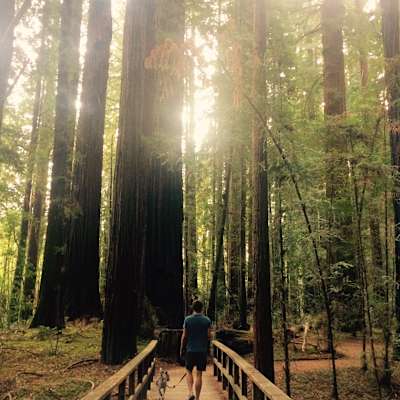 Cool, clear mornings in the heart of the forest is what the two campgrounds inside Hendy Woods Park, Azalea and Wildcat, promise. Set between...
77 Saves
14 Reviews
No one? Bueller? Sharing is caring, y'all.
Drop some
Hendy Woods
knowledge on us.
Activities in Hendy Woods State Park
Biking

Four hike-and-bike campsites are available to cyclists visiting the park. For information on riding in the park, contact the park office.

Boating

Motorized boating isn't really available at this park, but that doesn't mean you can't explore via watercraft! Grab your paddle and check out the kayaking and canoeing section of activities.

Hiking

Big Hendy has an amazing display of Redwood groves at their greatest. By far the best redwoods in Hendy Woods are in Big Hendy, an 80-acre redwood grove. Big Hendy Trail is a level, 1.6-mile trail that we highly recommend, the Upper Loop is definitely the most impressive part...check it out and frolick around some big a** trees!

Kayaking & Canoeing

There are over 20 miles of kayaking or canoeing to be done on the glorious Navarro River. It's kinda awesome because the river is lined with redwoods and can be completed by a novice paddler. For more info, check out our friends at American Whitewater.

Swimming

Keen for a dip in the fresh mountain water? Well you can jump straight into the Navarro River. This swimming hole is a safe haven when summer temperatures become unbearable.

Wildlife Watching

Hendy Woods is perfect for any animal lover! The woods are rich with wildlife such as mountain lions, deer, gray foxes and black bears.
History of Hendy Woods State Park
The two groves of redwood and the park which was constructed around them bear the name of Joshua P. Hendy, who in the late 1800's first claimed this beautiful area as his own.
Hendy found something within the peace and quiet of these moss encrusted groves that made him vow that neither saw nor ax would ever lay bare the inner bark of these giants. True to his word, as long as the land was his, the trees were never harmed.
California was growing and the need for lumber was great. After Joshua P. Hendy died, the groves were sold. Down came the giant trees in the outlying areas and off to the mills they were hauled. Timber was cut and removed from all sides of the big groves, but never was an order given to attack the giants standing there..
Hendy Woods was sold to the people of California in August of 1958, to become one of our finest state parks.