About Half Moon Bay State Beach
Half Moon Bay State Beach is a pristine 4-mile stretch of protected sandy beaches. This is the location to witness the great Pacific Ocean's power firsthand - the biggest wave in California, Mavericks, is a stones skip away. This setting is picturesque and offers a great variety of activities for ocean lovers. Whether you're a surfer or picknicker, Half Moon Bay State Beach does not disappoint.
Campgrounds in Half Moon Bay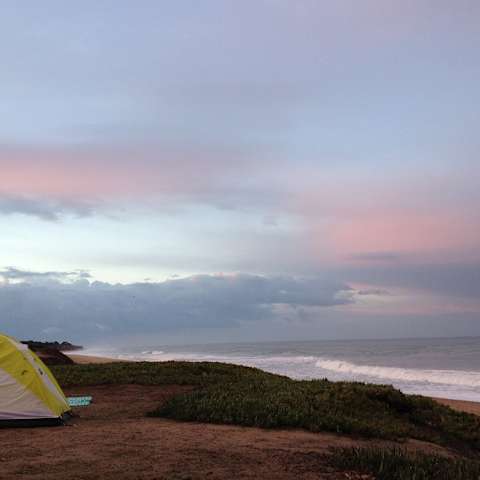 Kathy: Great family tent camping: hike/bike campsites are off the parking loop, as are 36-37-38; sites...
8 Reviews
No one? Bueller? Sharing is caring, y'all.
Drop some
Half Moon Bay
knowledge on us.
History of Half Moon Bay State Beach
By the time Europeans arrived here, this area had been occupied for thousands of years by as many as 50 separate and politically autono- mous native groups known as the Ohlone. Each group had its own leader, customs and territory, though some smaller groups were connected by shared boundaries, intertribal marriage and similarities of language.

Spanish, meaning coast people), the Ohlones' ecologically rich territory extended from the marine environment of today's San Francisco inland to the oak/grasslands of the western edge of the San Joaquin Valley and south to present-day Carmel. Today's coast Highway One and Highway 92 over the mountains faithfully follow trails created by the Ohlone.

Housing was simple and food was plentiful. Alongside trout- and salmon-rich freshwaters, the Ohlone used willow branches as frames for their dome-shaped dwellings, thatching them with dried tule, cattails or light brush. The ocean provided an abundance of fish, shellfish and sea
mammals, and the inland areas were rich in acorns, berries, roots, barks and nuts. The people—skilled agriculturists—practiced cultivation, controlled burning, pruning and re- seeding in order to encour- age the growth of herbs, medicinal plants and desir- able food sources. These methods of land manage- ment also produced natural forage that would lure local game animals. The Ohlone hunted large (deer, bears, elk and sea mammals) and small (rab- bits, squirrels, skunks and various birds) game for food.

Some Ohlone artifacts found at the park have included tools of obsidian and other sharp stones, artfully woven baskets, jewelry, clothing and weaponry. What the native people could not make or gather they obtained in trade with other native groups.

In the mid-1700s, Spanish missionaries arrived and drew the native people into the mission system. The decline in the Ohlone way of life began with the loss of their lands and grew rapidly with the introduction of European diseases. By 1810 nearly 70 percent of the Ohlone had per- ished from disease or had fled to other areas. Former Ohlone lands—the nucleus of today's San Mateo County—were granted to Spanish settlers in the 1840s.
The native people had managed the land productively without overexploiting it, but those who took it over changed its natural ecology. In spite of these challenges, today's Ohlone descendents continue the use of native plants and are reviving their lan- guages and passing on their honored traditions.
When the gold rush brought immigrants from Mexico and Chile to the area, San Benito earned the nickname "Spanishtown." Its remarkable diversity began during the late 1800s, when groups arrived from Canada, Italy, Germany, Ireland, China, England, Portugal, Scotland and the Pacific Islands. The first official mention of Half Moon Bay is on an 1854 Coast Survey sketch of Spanishtown.

Before Highway One was built, Prohibition (1920 to 1933) had caused a proliferation of speakeasies along the coast. This area's hidden coves and thick fog made it perfect for the eagerly awaited ships of Canadian rumrunners to unload their illegal whiskey onto smaller boats headed north to San Francisco.