About Emerald Bay State Park
You are coming to a place where lakes are full of sky, where ripples of water and spirals of cloud merge into one entity, as if separated at birth and reunited in the maternal arms of Emerald Bay. This is the land of the sheer Sierras, a maze of cove and lakeside campsite, an underwater treasure hunt for the remnants of shipwrecks - this is one of Lake Tahoe's secrets that's impossible to keep to yourself. Emerald Bay State Park, in conjunction with D.L. Bliss State Park, covers more than six miles of Lake Tahoe's west shore and includes man-made delights like the historic Scandinavian architecture of Vikingsholm (think enchanted castle) and the tea house on Fannette Island. Summer in Lake Tahoe is practically synonomous with
water sports
and you can also find boat-in camping at Emerald Bay. Even for explorers that prefer foot to paddle, this lush area provides hikes (like Eagle Falls or Maggie's Peaks) that make mountain and water into a whole new kind of medicine.
Campgrounds in Emerald Bay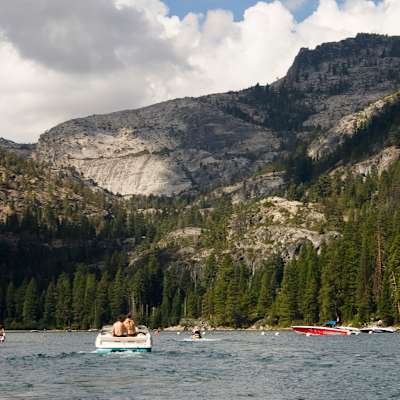 100% Recommend (8 Responses)
Paddle or motor yourself to a lakeside campsite and sleep above the leftovers of sheer Sierra cliffs that descend into the slender bay to create a...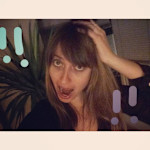 Sofia: Need to book well in advance and hike in is quite steep
27 Saves
Photos
This park doesn't have any submitted photos—just yet.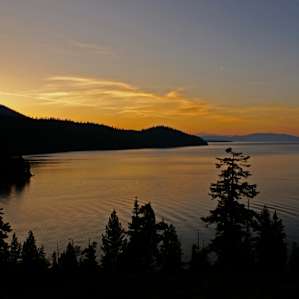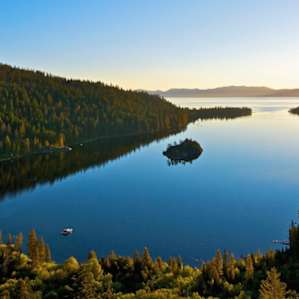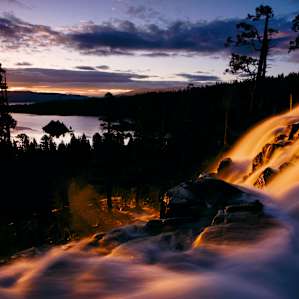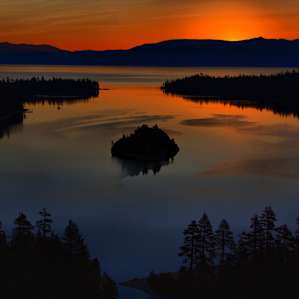 8 Reviews
No one? Bueller? Sharing is caring, y'all.
Drop some
Emerald Bay
knowledge on us.
History of Emerald Bay State Park
D.L. Bliss and Emerald Bay State Parks include more than six miles of magnificent Lake Tahoe's west shore, covering 1,830 acres in California's Sierra Nevada. From the scenic overlook on Highway 89, you can see a brilliant panorama of Emerald Bay, Fannette Island, Lake Tahoe and the distant Nevada shore. Nearby Eagle Creek cascades over three falls and disappears into the lake.
Emerald Bay State Park, including Vikingsholm, was sold to the State for half the appraised value by Placerville lumberman, Harvey West, in 1953. The Save-the-Redwoods League helped raise funds to acquire the land.
The Washoe (aboriginal Washo) natives were the first humans to inhabit the Lake Tahoe basin and the nearby Sierra Nevada range. Historians and archeologists estimate that Washoe have lived in the Tahoe basin for nearly 10,000 years. They lived as nomads, hunting, fishing and gathering seasonal food. In autumn, the natives moved from near the lake, which they called da ow a ga, to Washoe Lake in Carson Valley for the winter. Between 1848 and 1862, the Washoe people's estimated 10,000 square miles of lake and surrounding land were taken during the gold and silver rush. New settlers logged off the Sierra range for mine and dwelling construction.
The natives' descendants, the Washoe Tribe of California and Nevada, are now trying to reclaim portions of their land. Tribe members run the Meeks Bay resort campground and concession north of D.L. Bliss State Park. The Washoe are reviving their native language, teaching it to preschoolers, while pursuing traditional arts like basketry, dancing and drumming.
The grandeur of the parks and their setting came from successive upheavals of the mountain-building processes that raised the Sierra Nevada. Lake Tahoe (from an Indian word interpreted to mean "lake of the sky") lies east of the main Sierra crest at more than 6,200 feet elevation. After the mountains rose to the east and west, the lake's basin was completed by glaciers and lava seeping from volcanic vents, especially to the north. Emerald Bay was gouged out by glaciers thousands of years ago.