About El Capitán State Beach
So, let's be real: getting to camp on the beach is pretty freaking awesome. And that's exactly what you get to do at El Capitan, where the Pacific stretches out sparkling blue and inviting, sandy shores tempt you with an afternoon of sunbathing and sandcastles, and lush coastal woods beg to be explored. Hike one of the many trails that lead through along the beaches, explore along the coast and stumble on an enchanted tidepool, bring your paddle of choice and hit the water, or just take a long walk and enjoy the truly stunning scenery where the mountains meet the sea.
Campgrounds in El Capitán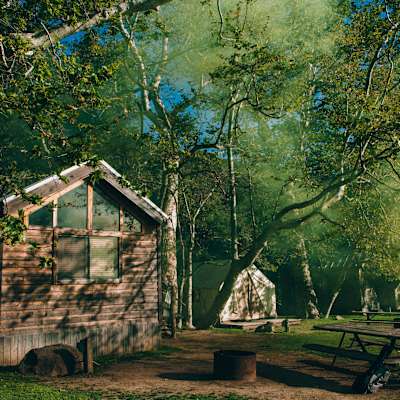 89% Recommend (28 Responses)
The lovely thing about all of the campgrounds in El Capitan is that they all have easy access to the beach. In addition to the 123...
Allison: The raccoons are bold here! Put away and safely store your food immediately before you leave your site.
109 Saves
25 Reviews
No one? Bueller? Sharing is caring, y'all.
Drop some
El Capitán
knowledge on us.
History of El Capitán State Beach
Chumash Indians lived here in the village of Ahwin as long as 3,200 years ago. They built their dome-shaped houses along the creek that had scoured out the canyon. Skilled hunters and gatherers, the Chumash are known for their exquisite basketry and for building seaworthy plank canoes (tomol) that allowed them to travel to the offshore islands. Some of their beautiful cave paintings can be seen at nearby Chumash Painted Cave State Historic Park.
Spanish explorer Juan Cabrillo "discovered" this area in 1542, claiming it for Spain. In 1782, the Spanish built the Santa Barbara Royal Presidio—the last Spanish fortress constructed in Alta California—to protect the nearby missions and settlers from foreign invasion and attacks by the native people. For the Chumash, Spanish colonization meant the end of their traditional way of life. Exposed to European diseases against which they had little immunity, their population quickly plummeted. After Mexico gained its independence from Spain, most surviving Chumash became ranch hands and servants on the new ranchos. Today, a growing number of their descendants are rediscovering their traditional heritage.

The first commander of the Santa Barbara Presidio was José Francisco Ortega, who had been chief scout for the Portolá expedition when they discovered San Francisco Bay. When Ortega retired as a brevet captain after 40 years of military service, the Spanish Crown granted him 26,500 acres of land west of what is now El Capitán State Beach, which takes its name from this early Californian.

Ortega's grandson, José Dolores Ortega, obtained another 8,800 acres of land, including the site of the future state beach, from the Mexican government in 1841. He and his family lived on Rancho Cañada del Corral, raising cattle and farming until they were forced to sell it in 1866, following years of ruinous droughts.

In 1953, the State of California purchased 111 acres of the former rancho to create
El Capitán State Beach, and in 1967, the Legislature approved purchase of an additional 21 acres. Growing threats of development to the lands across the highway from the park led to a public- private fund-raising effort in 2002 that raised $500,000 in seven weeks to purchase 2,500 acres of land known as El Capitán Ranch.

This property was added to El Capitán State Beach, and today the park offers high- quality coastal recreation while preserving an important part of California's environment and history.