About Donner Memorial State Park
Donner Memorial State Park will take your breath away with its astounding views of the Sierra Mountains reaching up to meet the California sky. As if the mountains weren't enough, the park is also home to Donner Lake-- a huge draw for the park's visitors, with crystal clear mountain waters, a beach to dive in from and plenty of water for kayakers, canoers, boaters, swimmers and windsurfers. The park here also serves as a beautiful reminder of the sacrifices that those who came before us made so that we could enjoy the beautiful state of California. There are three different campgrounds here, and plenty of wildlife to camp out with. Some people feel that if you are lucky, you will get to catch a glimpse of a black bear – we feel that if you are lucky, you won't get too close!
Campgrounds in Donner Memorial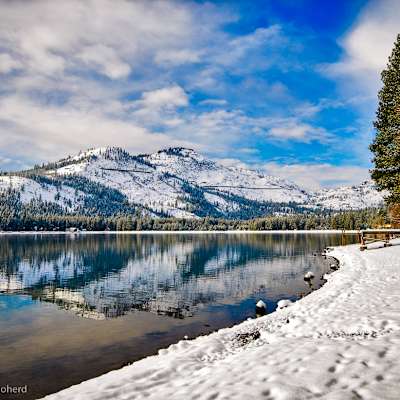 Splitrock campground in Donner State Memorial Park has 42 campsites, all with access to restrooms, food lockers, picnic tables and showers. The...
16 Saves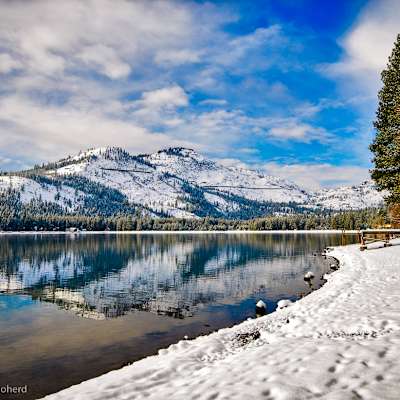 Ridge Campground in Donner Memorial State Park has 59 campsites located right in the middle of this memorial park (and closest to the...
4 Saves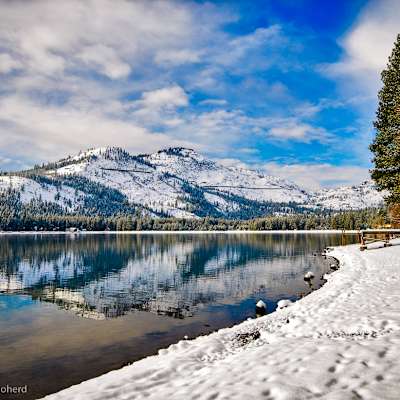 Creek Campground has 57 campsites. Campground amenities include restrooms and picnic tables – and we must say that the proximity to mountain water...
2 Saves
6 Reviews
No one? Bueller? Sharing is caring, y'all.
Drop some
Donner Memorial
knowledge on us.
History of Donner Memorial State Park
In late October of 1946, the Donner group arrived in Truckee Meadows, near today's Reno, Nevada. Here, they ran into Charles Stanton, returning from a trip to Sutter's fort in Sacramento. Stanton told George Donner that the way ahead would be extremely difficult. The exhausted group chose to rest and gather strength, a six-day delay that would prove fateful—and fatal.

When the Donner families got to the lake, there was snow on the ground. Members of the group attempted three times to cross the pass, with no success. The snowbound group settled in for the winter, building makeshift cabins and tents of logs covered with hides. However, attempts to hunt and fish were not successful. Families with any provisions at all refused to share what little they had.

In December, 15 members of the party—including Charles Stanton—tried in desperation to reach Sutter's fort. Carrying barely enough rations for six days, they left camp on crude snowshoes. Stanton became snowblind a few days out; to avoid holding up the others, he stayed behind and perished in the snow. Those who marched on could not find their way. Overtaken by a three-day storm, the group lost four members. One month after they set out, two men and the five women returned to the camp. They had survived on a deer they had caught, and on the bodies of their deceased companions.

The October storms had brought more than six feet of snow; November storms added nine more feet. In late February, rescuers reached the snow-buried cabins at the lake, to find several dead of starvation. They had already started back to safety when James Reed arrived with the second rescue party. At the camp, Reed saw George Donner dying from an infection, and noted evidence of cannibalism. Reed started back with several survivors, though Tamsen Donner elected to stay behind with her sick husband.

Reed and his band of survivors met another group of rescuers on its way to the camp. This group would bring out the rest of the Donner Party, except for Louis Keseberg, who remained behind, and Tamsen Donner, who once again refused to leave her husband.In April 1847, one year after the 91-person Donner wagon train had started out, a fourth rescue party brought Keseberg out. Only 49 lived through the harrowing winter.The monument at Donner Lake State Park is dedicated to all the pioneers who came overland to California. Its base stands 22 feet high—to surpass the greatest depth of the snow that may accumulate at the lake.