About Del Valle Regional Park
Del Valle Regional Park, centered around a pristine lake 5 miles in length with 16 miles of shoreline, offers potentially one of the most comprehensive locations for any nature/adventure enthusiast. Located just 10 miles south of Livermore, Del Valle is an incredible gem nestled into the East Bay Area. Crowded for all the right reasons, the park presents a plethora of water-oriented recreational activities, including (but not limited to) swimming, fishing, boating, and windsurfing. You would think that would be enough to attract a crowd, right? Undoubtedly, but Del Valle also presents incredible biking and hiking opportunities in its 5,000 acre, oak-speckled landscape that rival any parks in the surrounding areas. This park is a must-see if you find yourself in the East Bay area, as you could spend literally an entire day and only get through half of the activities available at your fingertips.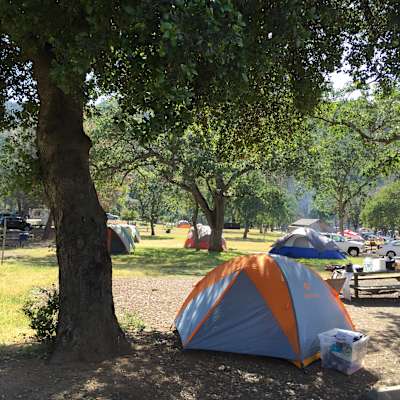 90% Recommend (10 Responses)
With 150 campsites (21 of which directly hook up to water & sewage), Del Valle Regional Campground is no joke. The site's proximity to the lake...
Tam: This is definitely a family-oriented campsite. Lost of kids running around during the day. If you're a light sleeper, I'd...
25 Saves
12 Reviews
No one? Bueller? Sharing is caring, y'all.
Drop some
Del Valle
knowledge on us.
This is definitely a family-oriented campsite. Lost of kids running around during the day. If you're a light sleeper, I'd recommend a set of earplugs or headphones, otherwise you might hear kids crying or partying from nearby camp sites into the night.
Helpful 3
Helpful 3
Remove vote :(
Great park year round, and even better in the "winter" when there are less people. Tons of campsites, Rent fishing boats, fish from shore, miles of hiking, great views. It feels far enough removed from the city, and only a 60-90 minute drive.
Helpful 0
Helpful 0
Remove vote :(
Little birdies have told us that campsites 51, 53, 69 are solid while 66-68 are fairly new and lack the necessary shade.
This is not necessarily a tip, but the showers are FREE! Now, you'd think they would lack the necessary comforting facilities with such generous nature, but the bathrooms consistently have hot water and clean washrooms, so we wouldn't consider camping here "roughing it."
The campsites are pretty close together so expect to hear and see all your fellow campers. We had a number of people with dueling sound systems. Still, I like the fact that it's only a little over an hour from the bay area and the scenery is nice. We spent a day on the lake paddle boating and then just lounging around our camp site. Bathrooms were cleaned and restocked everyday and the camp store had everything we needed. Site 133 had a nice shaded spot for our tents; other sites are not so lucky, it's very hit or miss.
History of Del Valle Regional Park
Deep in a valley framed by oak-covered hills, with sailboats and sailboards skimming over its waters, Del Valle is like a lakeside resort only 10 miles south of Livermore. Lake Del Valle is an artificial lake formed by the Del Valle Dam that was completed in 1968. It took two more years to complete the camping amenities and surrounding park, thus making the official opening date April 1, 1970. In the previous year, the state of California offered the Livermore Area Recreation and Park District (LARPD) oversight for the park/lake, but they turned the state down. Thus, it became the responsibility of the East Bay Regional Park District. The lake and dam are part of the California State Water Project, as part of the South Bay Aqueduct. The lake serves in part as off-stream storage for the South Bay Aqueduct. Before crews began construction on the dam in 1966 and earlier in the 20th century, there were fruit orchards and sheep grazing on the hillsides. Going back even further, historical books tell us that Costanoan Indians were the ones that resided in the Valley during the 1700's, living in makeshift shelters and eating the abundant game and plant life available in the area.