About Del Norte Coast Redwoods State Park
If you know good combinations (i.e. chocolate and peanut butter, macaroni and cheese, etc), then you should understand that it's the combination of an old-growth forest with 8 miles of rugged coast-line that makes
Del Norte Coast Redwoods State Park
notably awesome. The rich, green scenery is a wonderful backdrop for any outdoor adventure (especially hiking). The large campground here is especially incredible as it lies amongst the population of tall trees, making the perfect place for a quiet overnight stay.
Campgrounds in Del Norte Coast Redwoods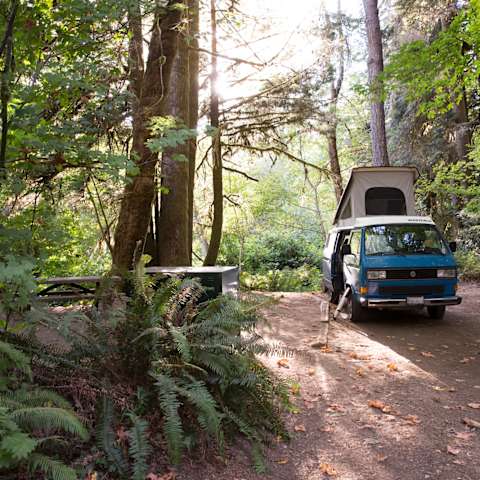 Kari: Out of all the campgrounds in the area this one has the most camp spots. The benefit of that is you...
History of Del Norte Coast Redwoods State Park
The park, established in 1927, has approximately 50% old growth coast redwood and eight miles of wild coastline.
The mixed understory includes tanoak, madrone, red alder, big leaf maple, and California bay. Ground cover is dense with a wide range of species. Vegetation is predominately red alder which will eventually give way to fir and second growth redwood.
The topography is fairly steep with elevations from sea level to 1277'. The predominant mountain range is oriented in a north-south direction with steep cliffs adjacent to the Pacific Ocean, making the bulk of the rocky sea coast generally inaccessible except by Damnation Trail and Footsteps Rock Trail.
This park, along with Prairie Creek, Jedediah Smith, and the National Park Service's Redwood National Park, are managed cooperatively by the National Park Service and the California Department of Parks and Recreation. These parks make up 45 percent of all the old-growth redwood forest remaining in California.