About Crystal Cove State Park
Crystal Cove… sounds intriguing right? Naturally, visitors and locals alike are drawn to this gorgeous state park. This is a water baby's paradise--there are some waves for surfers, an underwater park for snorkelers and scuba divers, rad tidepools for explorers, and a beautiful beach for those who just want to get their tan on. If you prefer land, the bluffs offer great trails for horseback riders, bicyclists, avid hikers, and even backpackers. This park has everything-- not to mention killer views!
Campgrounds in Crystal Cove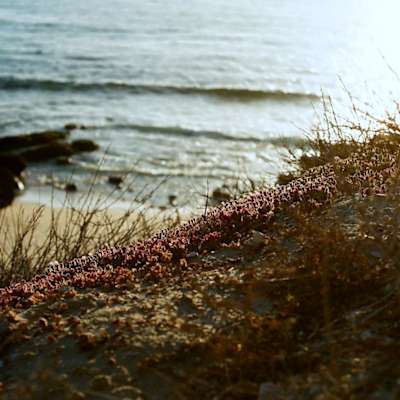 97% Recommend (17 Responses)
A bit of history: "Tyron's Camp" (a café, auto camp, and tent campground) opened during the 1920s along the beach and inland at Moro Canyon. In the...
Jason: Newer campground that sits above Hwy 101 across from the beach. Great views. The entire campground is terraced so you really...
178 Saves
10 Reviews
No one? Bueller? Sharing is caring, y'all.
Drop some
Crystal Cove
knowledge on us.
History of Crystal Cove State Park
For over nine thousand years, the native people established villages in Moro Canyon near two natural springs. Their food sources included waterfowl, fish from the kelp beds and surf zones, and a variety of plants and animals. The prehistoric people developed a number of specialized crafts and tools including nets, fishhooks, basketry, stone implements, ritual objects and tule canoes. With the arrival of Spanish missionaries, the native people were drawn into the mission system. At Mission San Gabriel and Mission San Juan Capistrano, their way of life changed with the introduction of new religious and agricultural practices.
After José Andrés Sepulveda acquired land from the Mexican government in 1836, Mission San Juan Capistrano's grazing area became known as "Rancho San Joaquin." With the assistance of a Native American workforce, Sepulveda used Moro Canyon's seasonal pastures for cattle grazing. After 1850, a run of bad luck—along with land title complications—pushed Sepulveda into debt. He sold Rancho San Joaquin in 1864.
The Irvine Ranch Company San Francisco financier James Irvine and three northern California ranchers purchased the rancho and stocked it with thousands of sheep. In 1876 Irvine bought out his partners when ranching failed due to droughts, wool infestations, and competitive markets. After Irvine's death in 1886, sheep ranching continued as other ranching activities developed. James Irvine II inherited the ranch from his father and diversified the agricultural business by leasing land to tenant farmers. He incorporated his land holdings and created "The Irvine Company" on June 4, 1894.
Beginning in 1927, Japanese farmers leased land from The Irvine Company and built homes, barns, and a community center known as "Laguna Beach Language School" (a building now preserved within the Historic District). Planting hundreds of acres of crops, the farmers sold produce from roadside stands and to Los Angeles markets. Life changed dramatically during World War II when the Japanese community was sent to an internment camp in Poston, Arizona. As a result, they forever lost their farms and homes along the Crystal Cove hills.
Although the Japanese farmers did not return to the area, agriculture and ranching practices continued into the 1970s. Over the years, The Irvine Company leased their land for farming, equestrian use and cattle grazing. During the early days of park ownership, these activities ended in order to enhance natural preservation and public recreation.
The Irvine Company also leased the coastal area to filmmakers and vacationers. Palm-thatched structures emerged at Crystal Cove, serving as both tropical movie backdrops and beach cottage rentals.
Beginning in the 1920s, people traveled the new Pacific Coast Highway to visit the beach. The Cove soon became a popular destination to pitch tents or rent cottages. By the late 1930s, The Irvine Company limited the development of the area to the current 46 cottages. In time, long-term leases were made, tent camping was eliminated, and the Crystal Cove community became a private beach.The National Register of Historic Places listed Crystal Cove for its unique vernacular architecture in 1979, the year The Irvine Company sold this land to the State of California. The cottages have been restored by California State Parks and the Crystal Cove Alliance for public use and enjoyment. Crystal Cove State Park is part of the 40,000-acre Irvine Ranch National and California Natural Landmark. This designation has been bestowed by both the State of California and the U.S. Department of the Interior to recognize the exceptional value of these lands to California and the nation.